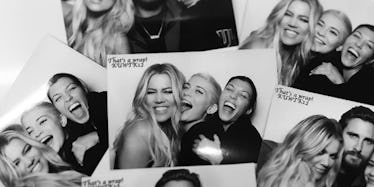 Kim Kardashian Refused To Attend Her Family's Celebration Of 'KUWTK'
Instagram
That's a wrap! Season 12 of  "Keeping Up with the Kardashians" is officially over.
How bittersweet!
HOLD IT TOGETHER, PEOPLE! It'll be OK. We'll get through this... one day at a time.
On Tuesday night, the Kardashian-Jenner family got together to celebrate the last day of filming for this season of "KUWTK."
The entire gang was in attendance, except for one person. Kim Kardashian stayed home and missed out on an emotional evening with her fam.
A week ago, the mother of two was held up at gunpoint in her Paris Hotel room and was forced to plead for her life.
The reality star has stayed out of the spotlight since the attack and is using this time to fully recover.
A source told ET,
There is not a big plan in place for her comeback. It's only been a week. She is still staying off the grid and away from everything.
Ugh, poor Kim.
According to Instagram, it looks like she missed out on several family photos throughout the night.
Kylie added a photobooth pic of her hugging Kourtney and Khloé with the caption, "my forevers."
Khloé added a few more images paired with purple heart emojis.
It looks like the family had a really good time, however, neither star mentioned the absense of their old sister.
Since the terrifying incident, Kim Kardashian has not commented on social media. Her sisters have continued to post on Snapchat and Instagram, but Kim has completely avoided those platforms.
Last week, E! shared a statement on what happened:
All of us at E! are incredibly thankful that Kim Kardashian West is safe, and we send her and her family our love and support. Our focus right now is entirely on Kim's well-being.
It's unclear when (or if) Kim will open up about the robbery, but we do know she's still "badly shaken" by what happened.
Citations: Kim Kardashian Skipped 'KUWTK' Celebration (Entertainment Tonight)