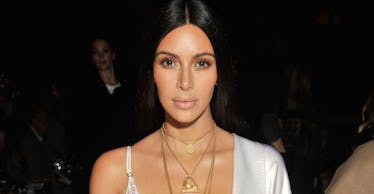 Kim Kardashian Reportedly Pleaded For Her Life: I Have Babies At Home
REX/Shutterstock
Early Monday morning, Kim Kardashian was held up at gunpoint by two armed men inside her Paris hotel room.
Although the reality star was physically unharmed, her rep shared she was "badly shaken" from what happened.
As previously reported by Elite Daily, the masked robbers were dressed as police officers and stole two phones, a $4 million ring and a bag of jewels worth close to $6 million.
The mother of two was tied up and locked in her bathroom, but now new details have emerged about the case.
A source told E! News Kim Kardashian was gagged and bound at her hands and feet before being handcuffed. The source added,
She begged for them to let her live and [said] she has babies at home. Then they wrapped her mouth in tape and put her in the bathtub. She thought they were for sure going to kill her.
When the men escaped from her hotel room, the star "broke out of her bindings and got out."
After speaking with police, Kim boarded a plane to leave France.
The "Keeping Up with the Kardashians" star was in the city with Kris Jenner, Kourtney Kardashian and Kendall Jenner for Paris Fashion Week.
According to CNN, she was staying in an apartment inside a private mansion.
Moments before the robbery occurred, Kim was FaceTiming Blac Chyna and Rob Kardashian to wish them a happy baby shower.
The video and message were the last social media posts she shared before the attack.
Kanye West was performing at a New York music festival in Flushing Meadows, Queens when he heard the news.
He cut his performance 20 minutes short and ran off the stage due to a "family emergency."
When Kanye West starts Heartless and then stops the show because of a family emergency pic.twitter.com/0xiPDycb4g — Chloe (@itschloet) October 3, 2016
Neither Kim nor Kanye have yet commented on the incident. Our thoughts and prayers are with the star and her family.
Citations: Kim Kardashian Held At Gunpoint (E! News), Kim Kardashian Held At Gunpoint (CNN)