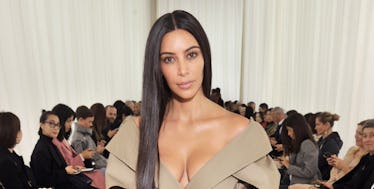 Kim Kardashian FaceTimed Blac Chyna Before Being Tied Up And Held At Gunpoint
REX/Shutterstock
Kim Kardashian was FaceTiming Blac Chyna and Rob Kardashian just moments before two masked gunmen stormed her room, tied her up and stole jewelry worth millions of dollars, reports say.
The reality star was on the phone with her brother and his wife-t0-be wishing them a happy baby shower from her hotel in Paris at around 2:30 am local time on Monday, reports PEOPLE.
She's believed to have been staying at the No Address Hotel.
Her chat with her brother was her last social media post of the day before armed men managed to get into her room and threaten her life.
A group of around five people are believed to have gained access to her room after holding up the front desk staff at gunpoint.
They reportedly ordered employees to reveal where Kim's team was staying before breaking in, tying her up and locking her in the bathroom.
The men are believed to have made off with two phones, a $4 million ring and a $6 million bag of jewels.
Kim's spokesperson, Ian Treciokas, gave CNN some of the details, including the fact the reality star was not wounded,
Kim Kardashian West was held up at gunpoint inside her Paris hotel room this evening, by two armed masked men dressed as police officers. She is badly shaken but physically unharmed.
Kim was away with her mother Kris Jenner and two of her sisters, Kourtney Kardashian and Kendall Jenner, for the week. However, her husband, Kanye West, was performing at a New York music festival in Flushing Meadows, Queens.
West received the news in the middle of his performance and immediately excused himself off the stage. It's reported Kanye cut his performance 20 minutes short after he had showed up 30 minutes late.
One fan captured video footage of the artist ending his set abruptly in the middle of a performance of the hit song "Heartless."
In the video, Kanye can be heard saying to the crowd,
I'm sorry, there's a family emergency, I have to stop the show.
When Kanye West starts Heartless and then stops the show because of a family emergency pic.twitter.com/0xiPDycb4g — Chloe (@itschloet) October 3, 2016
A fan who was at the concert described the scene via Twitter, adding Kanye's assistant had to pull the 39-year-old rapper to the side in order to deliver the bad news.
Kanye's assistant pulled him to the side of the stage then Ye got on the mic saying he had a family emergency then stopped the show.
Earlier on Sunday, Kim Kardashian had attended a number of fashion shows in Paris.
It's not known if any arrests have been made in connection with the robbery.