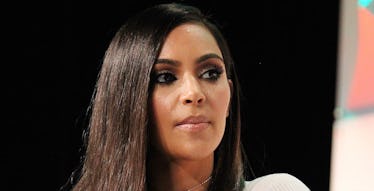 Kim K Looked Unrecognizable Leaving Her House For First Time Since Robbery
REX/Shutterstock
Kim Kardashian and her family have left their New York City apartment for the first time following the Paris robbery.
According to E! News, the reality star left her apartment through the back door and was holding North West in her arms. Kanye and Saint West exited the building with them.
A black Escalade was loaded with luggage early that morning, according to the source. Kim's bodyguard, Pascal Duvier, was also seen going into the apartment.
Kim Kardashian was photographed wearing a light grey sweatshirt and baseball cap. The 35-year-old reality star looks almost unrecognizable in the images.
It's unclear where the family is headed, but it looks like they're doing what they can to remain out of the public eye during this time.
As Elite Daily previously reported, Kim Kardashian was held up at gunpoint by five men who broke into her hotel room.
The star was tied up in a bathtub and forced to beg for her life.
A source told E! News,
She begged for them to let her live and [said] she has babies at home. Then they wrapped her mouth in tape and put her in the bathtub. She thought they were for sure going to kill her.
Since the attack, the Kardashian family has mostly stayed silent on social media. The only two members to post about the attack have been Kourtney Kardashian and Caitlyn Jenner.
Kourtney shared a biblical message on Twitter to express her feelings about the robbery.
The passage reads,
Remember that joy is not dependent on your circumstances. Some of the world's most miserable people are those whose circumstances seem the most enviable. People who reach the top of the ladder career-wise are often surprised to find emptiness awaiting them. True Joy is a by-product of living in My Presence. Therefore you can experience it in palaces, in prisons… anywhere.
Caitlyn posted an image of Kim with a touching message.
It's unclear if Kim will speak out about the incident, but we do know she's taking this time to be with family and recover.
Citations: Kim Kardashian Leaving NYC Home (E Online)