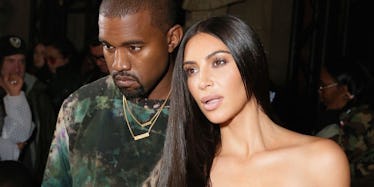 Kim Kardashian Took 'West' Off Her Social Media Bios And Everyone Lost It
REX/Shutterstock
We waited MONTHS for Kim Kardashian West to return to social media. Today, the reality star made a critical change that fans won't let slide by unnoticed.
In what can only be referred to as a total Kris Jenner move, Kim dropped the "Kardashian West" from her Instagram and Twitter bios, to make them read simply "Kim."
Kim Kardashian takes "West" out of her Twitter name -- old username still cached pic.twitter.com/1psX2NM8Jj — Christina Manduley (@cmanduley) January 3, 2017
A week or two ago, when divorce rumors plagued the West family following months of turmoil (see: Kim's Paris robbery, Kanye's hospitalization and tour cancellation), an alteration like this would have been a real nail-in-the-coffin moment for Kimye supporters.
Now, following the release of a heart-pulverizing video featuring home movies of the Kardashian-West fam, it seems like Kim is simply back in the branding game.
With the level of fame and, in the eyes of some losers, notoriety, Kim's achieved, no one can blame her for trying to reach the mononymous renown of Madonna, D'Angelo or the pope.
Unfortunately and unpredictably, the internet lost its damn hive mind.
Then, Kim switched her bio name BACK to the whole enchilada following criticism from the panicked masses.
Until today, Kim's social media sat untouched since October. Now, she's logged back on not only to flip flop her bio name, but to grace followers with a presh picture of the West family decked out in white.
Hold on to your soft little butts, for the return of Kim [Kardashian West] is upon us.
May we greet her with the same enthusiasm we generally reserve for drunk eating, free iced coffee or that stray bag of marijuana we found on the ground at that party full of strangers.
This is a new era of Kim. A new era of Kardashian. A new era of West.
You get it.
Citations: Kim Kardashian Drops The 'West' From Her Social Media Handles (Huffington Post)