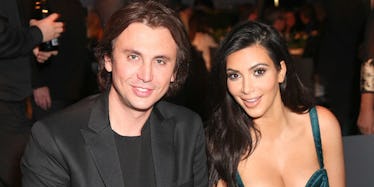 Kim Kardashian's BFF Says Kanye Divorce Rumors Are 'Literally Hysterical'
REX/Shutterstock
If you've been losing sleep over those Kim Kardashian and Kanye West divorce rumors, first of all, you should maybe drink less coffee or something.
But secondly, you can rest a little easier at night, depending on how much you trust Kim K's BFF, Jonathan Cheban.
According to Jonathan, the speculation Kim and Kanye are on the verge of a split is "so not true."
While at Daily Mail and Elite Daily's holiday party on Wednesday night, the 42-year-old reality star and longtime friend of Kim spoke to E! News about the divorce rumors.
Jonathan said,
I was just FaceTiming with Kim and Kanye and everyone's talking about some divorce rumors and I was laughing because I didn't hear that all day and I guess everybody else apparently here did. It's so funny to me because it's so not true. I don't know where people come up with stories but it's literally hysterical.
So there you have it, folks! According to Jonathan, it's all just bogus rumors.
Jonathan would not, however, going into much more detail as to how both Kim and Kanye were coping after Kanye's recent hospitalization.
He said,
They're in good spirits. I don't want to talk much about them because it's not my business but I do have to say that the divorcing is kind of hysterical, that I will mention, because I just spoke to both of them on FaceTime literally before I was coming here and when I heard that I literally burst out laughing.
All right, if Jonathan says it I guess it must be true, right?
I mean, look at this face. Is this a face that would lie to you?
Rumors the famous couple might be headed toward a breakup came from a combination of Kim's social media silence since her robbery and Kanye's supposed breakdown.
Apparently, when Kanye was released from the hospital, he did not return to live with Kim, but to live separately in a rental house.
A source told Us Weekly,
It's just been hell for them. Kanye's behavior took a huge toll on their marriage. But Kim feels relieved he is getting the help he needs. She thinks this is what it will take to save him — and help their marriage.
So things do seem kind of rocky for them right now.
But let's hope Jonathan is right, and that the notion of divorce is laughable at this point.
Because as much as I make fun of them, I really would hate to see the end of Kimye.
Citations: Kim Kardashian and Kanye West Divorce Rumors Are "Hysterical," Says Jonathan Cheban: "It's So Not True" (E! News)