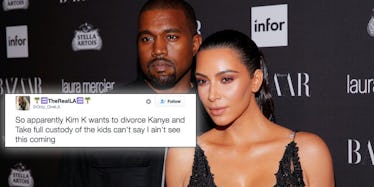 Fans Think Kim K And Kanye West Are Getting Divorced: Here's What We Know
REUTERS/Twitter
Things aren't going so well for Kim Kardashian and Kanye West.
West recently returned home after being hospitalized for a week at UCLA Medical Center due to extreme "exhaustion."
There was much speculation about how the 39-year-old rapper ended up in the hospital, with many theorizing the whole Kim Kardashian Paris robbery situation played at least a part in Kanye's breakdown.
Following his release from the hospital, troubling reports emerged suggesting Kanye West is no longer living under the same roof as Kim Kardashian, and this piece of information has sent fans into a tizzy.
The combination of Kim Kardashian's absence from social media since the Paris robbery, Kanye West's hospital stay and subsequent release and the fact Kim and Kanye reportedly aren't living together has seemingly forced fans to draw the same sad conclusion: Kim Kardashian and Kanye West are heading for a divorce.
Speaking on Kim and Kanye's strained relationship, a source told Us Weekly,
It's just been hell for them. Kanye's behavior took a huge toll on their marriage. But Kim feels relieved he is getting the help he needs. She thinks this is what it will take to save him — and help their marriage.
However, it appears the marriage may be more strained than most folks know, which has caused numerous fans to suggest Kim and Kanye are heading for divorce.
According to Us Weekly, Kim Kardashian "wants a divorce" from Kanye West and "doesn't want to stay married to him."
Speaking on Kim's current feelings toward Kanye, a source told Us Weekly,
She cares about Kanye and feels relieved he is getting the help he needs. But she's felt trapped for a while.
A source from E! News has denied claims Kim and Kanye aren't living together, which definitely calls into question the credibility of the claim they're heading for a divorce.
In any event, this is what we know so far. And this is all we know, so let's not jump the gun and make any rash conclusions.
For now, at least one source is claiming "Kim and Kanye are 100 percent together," so who knows what to think about all of this?
Citations: Is it all over? Kim Kardashian 'wants divorce from Kanye West after he recovers from breakdown and is plotting to get full custody of the kids' (Daily Mail), Will Kim Kardashian Divorce Kanye West? (Us Weekly)