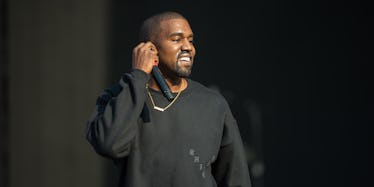 Kanye West Released From Hospital, Comes Back Home With Kim And Their Kids
REX/Shutterstock
It's official: Kanye West has been released from the hospital!
I know its' been a rough few days, but you can stop worrying and finally get some shuteye tonight.
According to E! News, 39-year-old Kanye West has been released after being hospitalized for a week at the UCLA Medical Center due to extreme "exhaustion."
The report states that TMZ has confirmed Kanye to be back home with Kim Kardashian and their kids in Los Angeles.
It all started after Kanye had reportedly been with his personal trainer Harley Pasternak when Kanye's physician made a 911 call deeming the situation a "medical emergency."
At that point, unconfirmed reports that Kanye was "violent" and had to be handcuffed to his gurney began circulating. However, that seems to have been an exaggeration for a psychiatric hold referred to as a "5150." The hold requires the patient to be handcuffed if they are believed to be in anyway dangerous.
Just before West was released on November 30, a source close to him spoke to E! News updating everyone that "Kanye is doing better."
The source went on to say that Kanye's overall "mental exhaustion" was responsible for his hospital visit.
He almost quit a few times during tour, including right after the robbery.
Can you even blame Kanye?
I mean, the man's got A LOT on his plate. I know there's the whole argument about how Kanye is famous and rich and "no one one man should have all that power," but the guy is a human being just like the rest of us.
When things get tough, things get tough!
The brief hospitalization followed Kanye West's lengthy rant during one of his "Saint Pablo" tour shows. During the first rant, Kanye recieved waves of harsh criticism from fans after voicing his support for Donald Trump.
In another show afterward, West called out everyone from Beyoncé and Jay Z to Mark Zuckerberg and Drake.
Kanye was then hospitalized for "sleep deprivation" and "exhaustion" just after canceling the rest of his tour.
It's not hard to see why -- Kanye's workaholic attitude isn't hard to notice.
The man has a clothing line, two babies, a wife of two years, a rap career and sold-out shows every night. If that's not exhausting after a while (for anyone), I'm not sure what is!
As for Kim Kardashian, the 36-year-old mother-of-two was able to make it to her husband's side at the hospital after canceling her appearance at the Angel Ball charity event in New York City.
The event, which was held the same night West went into the hospital, took a backseat in Kim's bucket of priorities. After skipping out on the event, Kim Kardashian eventually hopped on a plane and traveled back to Los Angeles.
Back in October, Kanye had to pull a similar move after walking out on his fans mid-concert when he had received news that Kim had been robbed at gunpoint in Paris.
Let's hope the roller coaster of a year for the Kardashian-Wests calms down for rest of 2016! After all, it shouldn't be too hard. Kanye clearly has the support system he needs to get back on track.
In addition to his close friends and family members, other celebrities -- like Lady Gaga and John Legend -- have showed their support for Kanye as he takes time to focus on his health.
Citations: Kanye West Released From the Hospital a Week After Being Admitted for Exhaustion (E! News)