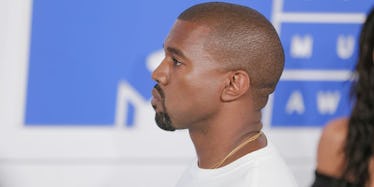 Dispatcher Says Kanye West's Having A 'Psychiatric Emergency' In 911 Recording
REX/Shutterstock
Details are still coming together as to why Kanye West was hospitalized on Monday.
The latest piece of the puzzle is the audio file of the Los Angeles Fire Department dispatch call, which was obtained by TMZ.
The call is difficult to understand for those not well-versed in paramedic lingo, but you do hear the speaker describe the situation as a "psychiatric emergency."
The 39-year-old rapper was reportedly at the home of his trainer, Harley Pasternak, when someone called 911 around 1:20 pm due to a "disturbance," the LA Times reports.
TMZ reports the call was made by West's personal physician, who told the 911 dispatcher Kanye was not violent, but he thought West may become violent when police arrived.
West was transported to the Ronald Reagan UCLA Medical Center to seek medical treatment for exhaustion and stress.
It is worth noting the medical use of "psychiatric emergency" most commonly refers to patients who are in danger of harming themselves or others.
West's hospitalization comes a day after he abruptly canceled his Saint Pablo Tour.
On Saturday night, Kanye called off a concert in Sacramento, CA after performing for only 30 minutes.
Kanye West tells the crowd the show is over after performing 3 songs. #SaintPabloTour #SaintPablo so much disbelief.. pic.twitter.com/skre0y678Z — Daniel (@Danielll309) November 20, 2016
The crowd responded with boos while Kanye apologized to them. He said,
I get y'all have a show but I can't perform.
Before canceling the Saturday night show, West publicly addressed performers Beyoncé and Jay Z, saying to the crowd,
Beyoncé I was hurt because I heard you said you wouldn't perform unless you won video of the year over me and over 'Hotline Bling.' In my opinion… Now don't go trying to diss Beyoncé. She's great. Taylor Swift is great. We are all great people. But sometimes, we be playing the politics too much and forget who we are, just to win. I've been sent here to give y'all my truth, even at the risk of my own life, even at the risk of my own success, my own career. I've been sent here to give y'all the truth. Jay Z, Call me, brah. You still ain't called me. Jay Z, I know you've got killers. Please don't send them at my head, just call me. Come to me like a man.
Earlier in the week Kanye stopped a concert in San Jose to say he didn't vote, but he would have voted for Donald Trump.
He has also said he is running for president in 2020.
When asked about her son-in-law's health at the Angel Ball in NYC on Monday night, Kris Jenner said,
I think he's exhausted. Just really tired. It's a grueling tour.
Citations: KANYE WEST FIRE DEPT. RADIO CALL ... 'PSYCHIATRIC EMERGENCY' (TMZ)