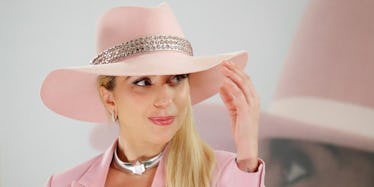 Lady Gaga Tweets Support For Kanye West And Praises His 'Bravery' To Stop Tour
REX/Shutterstock
If anyone knows about the many stresses that come along with being a superstar musician, it's Lady Gaga.
The 30-year-old singer is no stranger to dealing with the pressure that comes along with the endless amounts of fame and money.
In a past interview with Entertainment Tonight, Gaga explained,
I feel sad when I'm overworked, and that I just become a money making machine, and that my passion and my creativity take a back seat; that makes me unhappy.
From the grueling work schedules and the lack of sleep to the non-stop criticism and hate from every direction, being a celebrity is both a gift and a curse -- and Gaga knows this all too well.
That's precisely why the Grammy award-winning singer is able to comfort Kanye West rather than criticize him during his latest rough patch.
As you probably already know, Kanye had a bit of a meltdown on stage during one of his Saint Pablo tour shows in Sacramento, California.
The 39-year-old rapper and fashion designer had been touring the country non-stop before he went on a wild rant calling out everyone from Beyoncé and Jay Z to Mark Zuckerberg and Drake (kinda).
Fans at the concert were pretty upset after Kanye West cut the show incredibly short after his rant after performing only three songs. The incident came just days after Kanye voiced his support for Donald Trump.
As if all of that weren't chaotic enough, things went even further south for Kanye after he was reportedly rushed to the hospital in an ambulance after a "psychiatric emergency."
The end result? Kanye canceled every single one of his future tour dates. Let's just say if you thought fans were pissed at Kanye after his controversial political statements this month, they're even more pissed now.
Now, Lady Gaga is coming to West's defense after she took to Twitter, tweeting,
Kanye West, I support and love you, brother. I see in you bravery and courage to stop this tour and take care of YOU. You are a GREAT artist.
Well, that's refreshing! Most people had nothing but trash to talk.
Here's Lady Gaga's tweet voicing her support for Kanye West after canceling the rest of his tour following his "breakdown."
Despite how unstable Kanye West might be at the moment, it's good to see other celebrities like John Legend and Lady Gaga coming to his defense.
Regardless of one's political viewpoints or ongoing feuds with Taylor Swift, no one deserves to be kicked when they're down -- not even someone as controversial as Kanye fucking West.