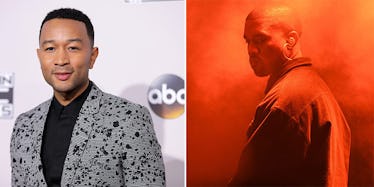 John Legend Speaks Out About Kanye West: 'I Was Concerned By What I Saw'
REx/Shutterstock
Monday, Kanye West was hospitalized with what's being labeled a "psychiatric emergency."
Now, Kanye's close friend John Legend is speaking out about his fellow recording artist, and it appears he's very concerned about the 39-year-old's wellbeing.
Speaking with "CBS This Morning" on Tuesday, Legend said he was with West's wife, Kim Kardashian, in the moments before Kanye West was rushed to UCLA Medical Center.
Legend said,
We were with Kim actually, you know, right before all of that. I was concerned by what I saw, so hopefully he's getting some rest and some time to figure things out.
Damn. It's one thing for you or me to be worried based on the varying reports we're hearing and seeing, but it's quite another for an inside source like John Legend to voice concern for Kanye West.
Kim Kardashian was reportedly in New York on Monday to attend the Angel Ball with sisters Khloé and Kourtney, but after learning of Kanye West's "psychiatric emergency," she immediately flew back to Los Angeles.
Last Saturday, West went on a rant about Hillary Clinton, Beyoncé and Jay Z at a concert in Sacramento before calling off the show just 30 minutes in. After that, he decided to cancel a concert in Los Angeles scheduled for Sunday night.
Kanye West tells the crowd the show is over after performing 3 songs. #SaintPabloTour #SaintPablo so much disbelief.. pic.twitter.com/skre0y678Z — Daniel (@Danielll309) November 20, 2016
Monday, a representative for Kanye announced he would be canceling all of the remaining shows on the US leg of his Saint Pablo Tour.
According to DailyMail.com, Kanye's rant, and quite possibly the "psychiatric emergency," may have been at least partially linked to arguments he's reportedly been having with Kim Kardashian.
A source revealed,
Kim is fed up. They've been bickering constantly -- she didn't want Kanye to do the tour in the first place. She wanted him by her side as she recovered from her traumatic robbery. She lost days with him while he's touring and then he made a rash decision to end the concert after 10 minutes and go on a rant. He had a psychotic break. Kanye is very hot tempered and he's very reactionary. A lot of times, he speaks before he thinks and he's very sensitive.
Damn. Get well soon, Kanye.
Citations: 'I was concerned by what I saw': John Legend speaks about his worries for close-friend Kanye West (Daily Mail)