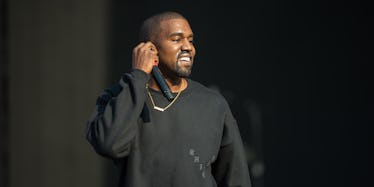 Kanye West's Original 'Famous' Lyrics: 'Taylor Swift Still Owe Me Sex'
REX/Shutterstock
Does anyone know when Kanye West's "The Life of Pablo" album is going to stop evolving once and for all?
First, the 39-year-old rapper spoke to fans about how he was going to release another version of his song "Wolves" featuring Vic Mensa and Sia.
In addition to that track, Kanye also confused fans after sampling Desiigner's "Panda" on the track titled "Pt. 2."
Months after the album's release, details are still surfacing -- and the latest news has to do with none other than Kanye's archnemesis Taylor Swift.
Let's just say Twitter users were QUICK to start a #KanyeWestExposedParty hashtag after a different version of Kanye's "Famous" was released to the public.
Taylor's fans? They're PISSED OFF (clearly).
The song features additional vocals and ad-libs by Young Thug, as well as altered lyrics recited by West regarding T-Swift.
If you've been keeping up with the KimYe-Swift feud, you know that Kim Kardashian epically exposed the 26-year-old singer during an episode of "Keeping Up With The Kardashians," which aired back in July.
Kim decided to let the public listen in on the conversation between Kanye West and Taylor Swift, in which Swift gave Kanye permission to talk about her in his controversial song "Famous" after she said she didn't give him the green light.
Taylor responded to being exposed by the couple with this Instagram post.
The original lyrics to the song read,
For all my Southside niggas that know me best, I feel like me and Taylor might still have sex, Why? I made that bitch famous
Now that a new version of the song has surfaced, fans are saying Kanye West has been exposed because the lyrics about Taylor are completely different and a WHOLE lot more offensive.
In the unreleased version of the song, Kanye raps,
I feel like Taylor Swift still owe me sex, I feel like Amber Rose still owe me sex, why, I made that bitch famous, Not really, but somewhat famous
OUCH! I'm sure Taylor Swift is somewhere sitting on million-dollar real estate pinching herself to see if this is real. Oh, Taylor, this is really real.
And poor Amber Rose, am I right?
Here's the original "Famous" demo.
While I'm sure Kanye's incredibly confused about how this unreleased version of "Famous" made it out to the public, I doubt he really gives a shit. After all, he was just in Taylor Swift's hometown dissing her.
Um, yeah, 'Ye does NOT care.
Citations: Kanye West's Original 'Famous' Lyrics About Taylor Swift Were Even Harsher (Entertainment Tonight)