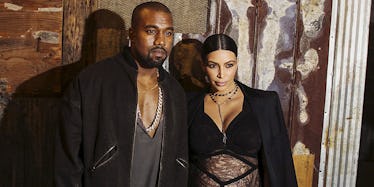 Kim K Just Exposed Taylor Swift's Phone Call With Kanye West About 'Famous'
REUTERS
Kim Kardashian West finally settled the debate over whether or not Kanye West gave Taylor Swift a fair warning about the opening lyrics of the song "Famous."
On Sunday night, Kim posted multiple videos on her Snapchat that show Kanye on an apparent phone call with Swift. In the videos, he provides multiple details about the words he will use to reference her in the song.
The videos seemingly exonerate Kanye of any wrongdoing in regards to whether or not he actually consulted Swift. Here are some of the snaps:
Kim Kardashian finally exposes Taylor Swift pic.twitter.com/3ZFXJtaM4r — ㅤㅤㅤ (@godneybjs) July 18, 2016
For months, since the the release of West's latest album, The Life of Pablo, it's been unclear as to whether or not the rap artist sought Swift's permission to use these potentially damaging lyrics:
For all my Southside niggas that know me best I feel like me and Taylor might still have sex Why? I made that bitch famous.
And Swift herself seemed to fan flames about rumors that suggested she wasn't told. At this year's Grammy Awards, for instance, an acceptance speech of hers appeared to take a pretty clear jab at Kanye West.
And after the release of the video for "Famous," reports indicated Swift was "furious" about the way she was depicted in the visuals for the song.
But on Sunday night's episode of "Keeping up with The Kardashians," Kim insisted Kanye was honest and Taylor was just looking for "another way to play the victim."
Kim Kardashian exposing Taylor on #KUWTK pic.twitter.com/SiPtJApqLX — not lindsay lohan (@drugproblem) July 14, 2016
And now, we all can finally see the proof that supports that claim.