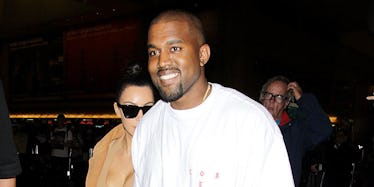 Here's Everything We Know About Kanye West's Hospitalization So Far
REX/Shutterstock
After a month of show cancellations, onstage breakdowns, hospital stays and general concern about the wellbeing of Kanye West, here is all we know about his current status.
The problems for Kanye started back in October when his wife Kim Kardashian was robbed at gunpoint during Paris Fashion Week.
Reportedly, the 36-year-old was bound, gagged and locked in a bathroom while robbers got away with anywhere between $6 million and $11 million in jewelry including one of her rings worth millions.
Following the robbery, Kim took an immediate social media hiatus from her various platforms. She hasn't updated her Instagram, Snapchat or Twitter since the robbery, and her website/app is currently being run by her assistant who posts occasional updates and guest columns.
Kanye, who was performing at The Meadows when the robbery happened, famously walked off the stage mid-show to be with Kim when he heard the news.
The robbery clearly weighed heavily on West who proceeded to go on a series of odd rants and early exits from his concerts while on the "Saint Pablo" tour.
The first occurrence of this happened during a show in Englewood, California where he informed fans at the beginning of his show that he wasn't physically able to perform.
He then said he would do better next time, promised the crowd a refund and was taken off stage.
A few weeks later, West came under fire after he told a crowd in San Jose he didn't vote during this year's presidential election, but if he did, he would have voted for Trump.
During that same appearance he went on a longer rant about race in America, in which he told African-Americans in the audience to not worry so much about racism.
Days later, Kanye had his biggest blowout when he performed three songs before going on a 17-minute rant and walking off stage.
During the rant, he called out Beyoncé, Hillary Clinton and claimed that Jay Z wanted to kill him, telling the audience,
I've been sent here to give y'all my truth, even at the risk of my own life, even at the risk of my own success, my own career. I've been sent here to give y'all the truth. Jay Z, Call me, brah. You still ain't called me. Jay Z, I know you've got killers. Please don't send them at my head, just call me. Come to me like a man.
As he was leaving the venue a fan captured a video selfie with the music icon.
It wasn't the best look for Kanye.
When Kayne West ends the show after 3 songs in Sacramento and allows me to take a selfie in the middle of the intersection w/ him. pic.twitter.com/14us9LkcLe — CioBlue (@PatrickSTAR489) November 20, 2016
The next day West informed his crew he was canceling the remaining tour dates.
Shortly after, West was admitted to UCLA Medical Center for a full psychiatric evaluation.
Here are a few things we know for sure:
1) The breakdown is purely mental, it has nothing to do with substance abuse issues. Dispatchers at the scene referred to West's situation as a "psychiatric emergency." This term is used to describe patients who could potentially hurt themselves or others.
2) Kanye was at his trainer's home when the call to police was made by his physician. He reportedly thought West was calm at the time, but feared that West may become violent if police were brought to the scene.
3) Kris Jenner claims that Kanye was admitted to the hospital because of sleep deprivation. Other sources close to the family seem to be saying the same thing: that Kanye is just tired and stressed from the tour.
4) Kim was scheduled to make her first major public appearance since the robbery on the same day Kanye was admitted to the hospital. After hearing that he was admitted, she got on a flight back to LA from NYC and has been with him since.
She reportedly has been sleeping next to him and feeding him since he's been in the hospital.
A source close to the family told the Daily Mail that the two weren't on great terms before he went back to tour after the robbery, saying,
Kim is fed up. They've been bickering constantly – she didn't want Kanye to do the tour in the first place. She wanted him by her side as she recovered from her traumatic robbery in Paris. She lost days with him while he's touring and then he made a rash decision to end the concert after 10 minutes and go on a rant. He had a psychotic break. Kanye is very hot tempered, and he's very reactionary. A lot of times, he speaks before he thinks, and he's very sensitive.
5) Speaking of Kim, the source went on to say,
We're all really worried about Kim -- no one has been able to get hold of her since it happened. Kim got through her ordeal without losing her mind, and now she has to deal with Kanye losing his. She has to take care of him when really, she needs taking care of herself. She's still not fully recovered, and now she has to deal with this. It's a complete mess.
6) Kanye could financially stand to come out on top after this breakdown on the tour's cancellation. According to the insurance policy he took out on the concert, West should be entitled to compensation for the shows he missed plus the money he owes his crew for those performances. This clause could be overruled.
7) As of yesterday, Kanye hasn't been diagnosed with anything specifically. A source told ET,
Kanye's doctors are super reluctant to diagnose anything, mainly because a mental or cognitive disorder cannot be diagnosed after one hospital visit, but rather after observing someone's behavior over the course of a specific time frame. Kanye is there in the hospital because he knows he needs to get better, and he wants to get better.
8) This is pure speculation, but there have been rumors that the anniversary of Kanye's mother's death, which was on November 10, could have something to do with his recent struggles.
9) Kanye spent Thanksgiving in the hospital. Kim was with him though she cut out for a bit to spend some time at her family's meal.
Our thoughts are with Kanye and his entire family.