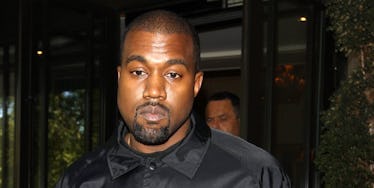 Kanye May Spend Thanksgiving In Hospital: Health Is 'Way Worse' Than Thought
REX/Shutterstock
Kanye West's "psychotic breakdown" could be way worse than people first thought, it has been reported.
The rapper was taken to hospital earlier this week after suffering sleep and water deprivation -- but now it looks like he won't be home for Thanksgiving.
Sources told TMZ Kanye's problems run so deep his insurance policy could kick in and pay for losses made on the 21 concerts he has cancelled as part of his tour.
Yesterday, we reported how Kanye is poised to make some money out of his mental breakdown.
This depends on whether his insurance policy is given the green light. The insurance company can still deny coverage to Kanye if he knowingly had a preexisting condition but never disclosed it when he took out the policy.
Kanye was taken to UCLA Medical Center on Monday.
It followed a mega rant about Beyonce and Jay-Z on stage in Sacramento over the weekend.
At the time, friends said he was sleep deprived and would sometimes stay up for 48 hours at a time.
The situation was so serious, Kim Kardashian canceled her appearance at the Angel Ball in New York City and flew back to LA to be with her husband.
It would have been her first public appearance since she was held at gunpoint and robbed in Paris in October.
People tweeted photos from his show on Saturday night, which suddenly looked heartbreaking in light of the news.
And others reminded people that -- love him or hate him -- he's still human.
A source told DailyMail.com Kanye's breakdown has nothing to do with drugs and is purely mental.
A close friend said,
Kim is fed up. They've been bickering constantly - she didn't want Kanye to do the tour in the first place. She wanted him by her side as she recovered from her traumatic robbery in Paris. She lost days with him while he's touring and then he made a rash decision to end the concert after ten minutes and go on a rant. He had a psychotic break. Kanye is very hot tempered and he's very reactionary. A lot of times, he speaks before he thinks and he's very sensitive.
The source added,
We're all really worried about Kim – no one has been able to get hold of her since it happened. Kim got through her ordeal without losing her mind and now she has to deal with Kanye losing his. She has to take care of him when really, she needs taking care of herself. She's still not fully recovered and now she has to deal with this. It's a complete mess.
Kanye is reported to have made the decision to seek help himself.
Citations: TMZ