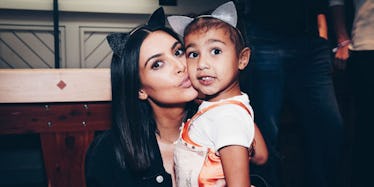 Kim Kardashian Wishes North West A Happy Birthday With Adorable Post
Rich Fury/Getty Images
Today is North West's birthday, fam. The little bean is four today, and I literally feel like a antique 'cause I feel like she was an infant last night.
Anyway, Kim Kardashian took to her app to wish her daughter a happy birthday, saying,
Happy birthday to my mini me! I can't believe you are 4 already. I love you so much, Northie!
The caption was posted along with an adorable video compilation of all of Kim's favorite Snapchats of North. The beginning of the video featured a collage of North West Kimojis, because obviously.
You can watch the full video on Kim's app.
Grandma Kris also got in on the birthday love action with a thread of tweets dedicated to her granddaughter.
Between all three of the tweets, she said,
Happy birthday to our beautiful, funny, smart little love bug, North. You bring so much light to our lives and I am blessed beyond words to have you as my granddaughter. It brings me so much joy to watch you grow up to be sweet and kind and loving... I love you so much my precious angel girl...Lovey xo
Awwwwwww, what an adorbs grandma.
My sister is pregnant with her first baby, making this my parents' first grandchild, and every time my mom and dad talk about the baby I literally simultaneously sob and throw up because the thought of them being grandparents makes me so f*cking emotional.
You can just ask my older sister. She'll confirm how much my extra personality annoys her. ALL OUT OF LOVE, THOUGH!!! (Sarah, if you're reading this, plz don't get mad at me. I luv u.)
In true auntie form, Khloé Kardashian also posted in honor of North's birthday, just like I'm going to do every single time my niece does literally anything ever.
She tweeted a link to her app, saying, "See the cutest moments I've twinned with the birthday girl!!"
Her post on the app said,
Happy birthday, Northie! I can't believe you're already 4. You're such a cool and crazy kid—I like to think you get it from your Auntie KoKo Loco, LOL. We've twinned a lot over the years and these are some of my fave memories!
The caption came with a bunch of pictures of Khloé and North together.
I JUST WANNA BE AN AUNT ALREADY.
Happy birthday, North!