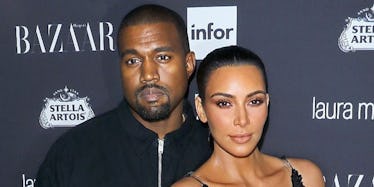 Kim K And Kanye West Reportedly Hired A Surrogate To Carry Their Third Child
Jim Spellman/Getty Images
There's reportedly another West baby on the way.
Kim Kardashian and Kanye West have allegedly hired a surrogate to carry their third child, People and TMZ report.
Elite Daily reached out to teams for both Kim Kardashian and Kanye West, but did not hear back by the time of publication.
As fans of Keeping Up With The Kardashians know, Kardashian West had difficult pregnancies with her two children, North, 4, and Saint, 1.
The star suffers from placenta accreta, which is a condition where the placenta grows into the wall of the womb during pregnancy. Kardashian West wrote about the experience on her app when she was pregnant with son Saint, saying,
My advice to anyone going through this or anything difficult during pregnancy is that all you can do is be hopeful, get the best information out there and just be prepared. The more information you have, the better you know how to handle it!
According to documents allegedly obtained by TMZ, a deal has been made with a surrogate to carry the couple's third child. They reportedly found the surrogate through an agency and agreed to pay $45,000 in 10 monthly installments. They also reportedly paid a deposit of over $68,000 to the agency.
Kardashian West mulled over the possibility of hiring a surrogate on KUWTK back in November 2016. Her sister Kourtney Kardashian also offered to be the surrogate, and "nobody would even know." Ahhhh, sisterly love.
In that same episode, mom Kris Jenner shared her fear of Kim hiring a surrogate. She said,
I just think that that scares me for you… Like what if [the surrogate] gives birth and then grabs the baby and makes a run for it?
Can't say we blame her for that thought, with such a famous couple as the parents. BUT, we're hoping for the best for the entire Kardashian West family! CONGRATS!