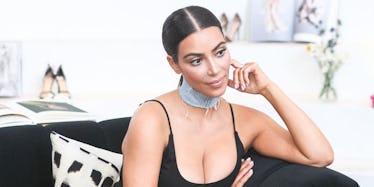 Kim Kardashian Can't Risk Having More Kids, So She's Considering A Surrogate
REX/Shutterstock
Kim Kardashian West has always been transparent about the difficulties she faced during her pregnancies with daughter North and son Saint.
Now, she's considering having a secret baby and waiting a year to drop the news on fans.
If you think this scheme has Kourtney Kardashian written all over it, you're one astute lil' Nancy.
On Sunday's episode of "Keeping Up with the Kardashians," Kim explored whether delivering a third child is a possibility for her following her past struggles with toxemia and a retained placenta.
Both her OB/GYN, Dr. Paul Crane, and fertility specialist Dr. Huang told Kim a third pregnancy would be "high-risk," so she met with a mother named Natalie to get a little insight on gestational surrogacy.
Kimmy shared her concern of never being able to love her children equally, telling Natalie,
I think my biggest fear is that if I had a surrogate, I just don't know like, would I love them the same? …That's the main thing that I keep on thinking about, that scares me.
Natalie assured her,
There's not a day where I have any thought that my love for my kids are different, that my connection to my kids are different.
She added,
You know you get to carry one and have them close to you, but the other is because you so desperately wanted them in your family.
With this beautiful sentiment in mind, Kim also sought Earth Mother Kourtney's opinion on surrogacy.
Like a true maniac, Kourt told Kim (as the cameras rolled) she could enlist the help of a surrogate and "nobody has to know," adding Kim could have the baby for a whole year and "nobody would even know."
The likelihood of this happening based on the nature of the Kardashians' empire is nonexistent, but certainly begs the question,
Why recommend a secret baby scenario, Kourtney? What does that accomplish, Kourtney? ARE YOU JUST BORED RN KOURTNEY?
Kris Jenner's thoughts regarding Kim's surrogacy dreams were equally insane but rooted more in good old fashioned paranoia.
When Kim floated the idea of selecting a surrogate to carry her third child, Kris warned her,
I just think that that scares me for you… Like what if [the surrogate] gives birth and then grabs the baby and makes a run for it?
Kim, who could have easily just promised to choose a slow runner when reviewing candidates for the job, soothed her mother by saying,
Well I don't think [the surrogate] can… Also the best thing is I could have a new baby and have no one know and live my life for a good year before we announce it.
OH, GOOD. KOURTNEY'S SECRET BABY IDEA REARS ITS HEAD. AMAZING.
Y'all are on your own for this one.
Citations: Kim Kardashian ''Could Bleed to Death'' If She Gets Pregnant Again: ''It Wouldn't Be Safe,'' Say Doctors Who Suggest Surrogacy (E! News)