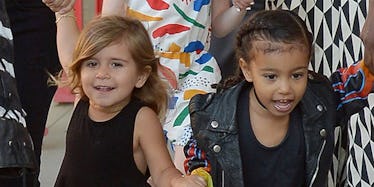 North And Penelope's 'Moana'-Themed Party Will Put Your Childhood Birthdays To Shame
Shutterstock
If you're having a bad day, check out photos from North West and Penelope Disick's birthday bash.
It provides a dose of cuteness and simultaneously supplies some intense FOMO. All of those celebrations you had at the local roller rink are simply inadequate when you take a glance at the girls' Moana-themed party.
Have a look and try not to feel too bad that 4-year-old Nori and 5-year-old Penelope didn't add you to the guest list.
What did we tell you? Pretty fabulous, right?
Did you take a look at those lovely cakes? I'm requesting something similar for my next birthday... in March... when I'll turn 28.
We can't get over those cute costumes!
So adorable; I'm searching online as we speak so I can get my baby cousins the same one.
Even the grownups had to get in on the action.
I need an afternoon on a bouncy castle, please and thank you. Move over, Kourt.
Excellent choice, ladies. Your Moana theme is perfect for a summer soiree. You're really getting into the spirit of the season!
In between birthday plans, Mama Kim has certainly been keeping busy with the launch of her new beauty products. The 36-year-old reality star's new cosmetics line, KKW Beauty, and contour kits sold out within minutes, so it looks like Kylie is going to have a bit of competition with her big sis.
Meanwhile, Kourt has a new hunky hunky boyfriend, but Scott Disick is reportedly spending time (again) with 19-year-old Bella Thorne. It's a yes-no-maybe kind of relationship, and we're not entirely sure what to make of their PDA.
Regardless of what their parents are up to, Nori and P had their Disney party to attend to — priority number one. Maybe you little ladies can send a slice or two of leftover cake our way?