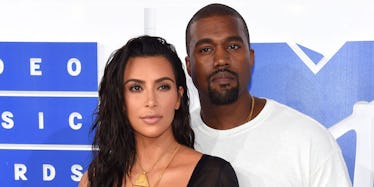 Kim Kardashian Shares Kanye West's Reaction To Her Beauty Line And It's So Sweet
Jamie McCarthy/Getty Images
Kim Kardashian had a big day Wednesday.
The 36-year-old reality star launched her new cosmetics line, KKW Beauty, and her contour kits quickly sold out.
With all the hype leading up to the launch, it really came as no surprise when fans raced to get their hands on the product, and Kim K was clearly pleased with its success.
She tweeted along as the crème contour and highlighter kits sold out in all four shades -- starting with medium, then light, until all four shades were no longer available.
At the launch party for KKW Beauty, Kardashian revealed she has the full support of her fashion designer husband. While it's a well-known fact Kanye West gave her a style makeover several years ago, she said he leaves the beauty to her.
Kardashian told E! News,
No. That's totally an area he doesn't know much about. But he's so proud of me.
She continued,
I showed him my Instagram yesterday and we were looking at the product shots and all of the campaign shots and he was just so excited.
The couple, who celebrated their third wedding anniversary back in May, seem to be stronger than ever despite an emotionally taxing year that included the Paris robbery and West's mental health breakdown.
In fact, their family might be expanding in the very near future.
People reports Kim and Kanye have hired a surrogate to carry their third child.
For now, the family of four are enjoying hanging out together. West recently celebrated his 40th birthday and, to mark the momentous occasion, the family headed to the Bahamas for a little vacation.
Chatting about their trip, Kardashian said,
It was so much fun. I think the Bahamas was great because I took all of his friends and we just all had the most amazing time. Just super chill with the kids and our families. It was just so much fun.
Wedding anniversaries, birthday trips, product launches, and possibly a new baby -- it's turning into a busy summer for the Wests.