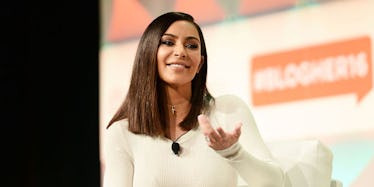 Kim Kardashian's KKW Beauty Line Dropped And Immediately Sold Out
Matt Winkelmeyer/Getty Images
What's that? You've caught wind that Kardashian empress Kim Kardashian has designed her own beauty makeup line and that, perhaps, it went on sale today? Maybe you're interested in purchasing a product or two?
WELL, TOO BAD.
That sh*t sold out faster than you can say Kourtney-Kim-Khloé-Kendall-Kylie-and-I-guess-Rob-too-if-we're-being-fair. At roughly 12:12 pm ET, Kim K's medium shade sold out first and Twitter users weren't happy.
As of 12:30 p.m., Wednesday, June 21, both light and medium shades sold out, but don't worry. Kim was there to keep everyone going with technical trouble.
Kardashian has been teasing the release of her new makeup on social media for weeks, posting short videos, product images, and lots and lots of high-resolution photographs of herself.
And, following in Kylie Jenner's lip kit footsteps, it was guaranteed to sell out right under our noses. Seriously, we didn't stand a chance.
One could argue that the Kardashians brought the art contour into the mainstream makeup scene almost single-handedly, and the KKW line itself boasts four contour pallets in shades light, medium, dark, and deep dark, respectively.
Kim has said in one of her Instagram posts,
I'm so in love with these shades! I use the medium and dark kits depending on whether I'm going for a natural daytime look or I want a more dramatic contour for the evening.
Right, right, right.
Her creme contour kits went for a cool $48 each, making one pallet the price of my entire hair, makeup, shower, and toiletries collection, or three pairs of jeans at Forever 21... or roughly 12-15 iced coffees.
Pick your priorities accordingly, people.
Now that the product is sold out, you can cross your fingers that Kim releases a few more as a special gift to fans. If not, just boot up your old eBay account and let the bidding begin.
Rest assured this won't be the last time KKW Beauty sells makeup, and you can always head on over to KKW Beauty online to sign up for notifications as to when the next release will be.
Until then, keep your fingers and keyboard ready, and keep your eyes on Kim's social media accounts as she is sure to tease the next drop.
God speed.