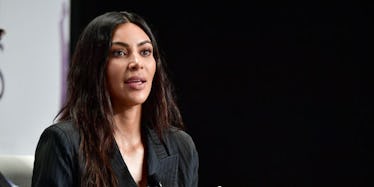 People Are Pissed At Kim Kardashian For This Detail On Her New Contour Kits
Dia Dipasupil/Getty Images
In case you haven't heard, Kim Kardashian is following in little sister Kylie Jenner's footsteps and wading into the beauty business.
Last week, Kardashian announced the upcoming launch of her line, KKW Beauty, and then shared a few deets about what we can expect.
We now know the official launch will take place on June 21 and the first product you can get your hands on will be a contour kit.
At the Forbes Women's Summit last week, Kardashian shared,
I think with everything that I've done, I change my looks up all the time, but the one thing that's consistent is contour. So we're doing a cream contour with the launch with an amazing dual-ended brush to blend it, and there's a highlighter kit with it. It all comes together.
So now you can have lips like Kylie's and the rest of your face like Kim's. What more can we ask for really?
Anyway, the 36-year-old is quite excited about this new endeavor.
At the same Forbes event, she told the audience,
These are all projects I'm doing full ownership… every last detail from the box, to the packaging, to being in the factory, and feeling every packaging detail … I'm a hundred percent involved in and that's so prideful for me…
It's interesting that the reality star mentioned being involved in every detail, specifically packaging, because that's exactly what has Twitter disappointed at the moment.
Fans got their first look at how the contour kits will arrive, and they're seriously pissed at the "cheap" look.
In fact, many people think it looks similar to food storage and other items that, uh, aren't makeup.
Fans still seem excited for the makeup itself, though.
Of course, there are always two sides. A few people rushed to Kardashian's defense.
It's worth remembering Kylie's Lip Kits, although hugely successful, have had their fair share of problems, too.
Plus, this is only the first product from KKW Beauty, so things are bound to improve based on user feedback.
Speaking on how she uses social media, Kardashian told the Forbes audience how important she thinks Twitter is for connecting with her fans.
She said,
I love the conversation with people. I think people love to promote, but for me, I listen a lot.
Well, Kimmy, Twitter has spoken and does not like your packaging. Are you listening?