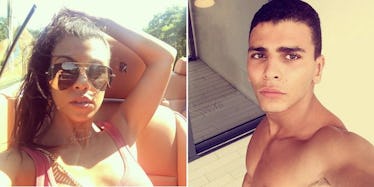 Everything You Need To Know About Kourtney Kardashian's New Model Boyfriend
Instagram
Step aside Scott Disick (again), there's a new guy in Kourtney Kardashian's life and he's bringing a six pack of abs with him.
The oldest Kardashian sister and mother of three has been seen out on the town with a new young model named Younes Bendjima, and the world. is. watching.
And boy, do we have some questions. Who is he? Where did he come from? How did he meet Kourtney? How'd he get those abs?
Fortunately, the internet is here to help us with some of these questions, and here is what we know:
He is younger than Kourtney. Like, a lot younger.
Look at that baby-boy face. Younes is 23 years old which makes him 15 years Kourtney's junior. Kourt is 38 and f*cking KILLING IT.
He speaks multiple languages.
Three, to be exact. His mother lives in Paris and he is from Algeria, making him fluent in French, English and Arabic.
He used to be a professional boxer. Now he's a model.
Obvs. The young heartthrob has had quite the professional life, moving from inside the punching ring to on top of the runway.
He has allegedly been dating Kourtney since October 2016.
In fact, The Sun reports he was even with Kourtney at the club the night her sister Kim was robbed in Paris.
He is not new to the famous dating game.
No, not to his apparent homegirl Rita Ora pictured here... but just before meeting Kourt-Kourt, Younes was linked to British model Jourdan Dunn.
It has been reported that he started dating Kourtney just a week after ending things with Jourdan.
He was picked off the street to become a model.
According to The Sun, Younes was living in New York City in 2011 when a modeling scout approached him. He then made his catwalk debut in 2013 for Givenchy, and is signed with Next Model Management.
And did we mention he has abs?
Like, sooooo many abs.
Kourt, you guys look damn FINE together. Keep us posted, girl!
Citations: Who is Younes Bendjima? Kourtney Kardashian's new boxer boyfriend, model and Jourdan Dunn's ex (The Sun)