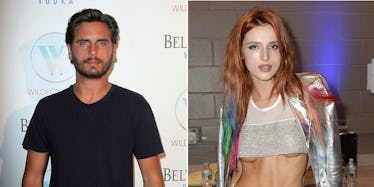 Scott Disick And Bella Thorne Are Holding Hands In New PDA Pics
John Parra/Getty Images for Wildfox and Gustavo Caballero/Getty Images for iHeart
Stick to the script, Scott. Are you dating 19-year-old women or nah?
After an alleged fling earlier this summer (and during what seemed to be another downward spiral for Kourtney Kardashian's baby daddy), Bella Thorne and Scott Disick are back in public together, and this time holding hands.
Cameras caught the duo at Lana Del Rey's birthday party at 1 OAK in West Hollywood on Thursday night, June 22.
According to an onlooker who spoke with US Weekly, Scott Disick and Bella Thorne arrived to the club with a group of people just before midnight.
Additionally,
They all took a table together and were dancing and hanging out for a while. Scott and Bella were holding hands as he was escorting her to the table and away from the table when they left a little before 2 a.m.
Interestingggg.
When the pair were first linked together during the Cannes Festival, Thorne told Entertainment Tonight, "We're chillin', we're friends, we're cool. I literally just saw him, so it's literally all chill."
Well, then. Sounds chill.
She also told Complex she can't keep up with Disick's partying:
Scott is really nice, sweet, charming. I don't drink, and he really drinks a lot. And it just ended up ... I just wasn't down. I was like, 'I gotta leave.' We were [at Cannes] a day and a half before I was like I'm booking my flight and leaving. I love to go out and have fun, I love to f*cking dance, but I just don't party hardcore like that and it was way too much for me. I was like, 'Woah, this is not the way I live my life, bruh.
Now, photos of the two of them in the back of a car seem to be telling a different story.
These images could come as a shock to Kourtney Kardashian, in theory. But, more likely than not, she won't even bat an eye.
Disick first began his latest tour of young, bikini-wearing women around the same time Kardashian was spotted jet skiing with new beau, Younes Bendjima.
No telling if this time Bella Thorne and Scott Disick will stick, but we're sure social media will keep us posted.