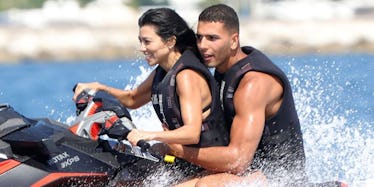 Kourtney Kardashian Shows Major PDA With Younes Bendjima In Cannes – PHOTOS
J. Almasi/GC Images
Kourtney Kardashian and her Instagram model boyfriend, 23-year-old Younes Bendjima, are in Cannes, France, together and the pictures show some serious PDA.
In the pics, Kardashian is seen rocking an all-gold bikini while kissing Bendjima on a boat, who appears to be wearing a purple bathing suit.
The new couple was most recently seen together at the Hotel du Cap-Eden-Roc in Antibes, France, on Sunday, May 21. Now, I guess they're making out by pools.
Hey, more power to ya! I'm single as hell, so I respect this vacation hustle.
Kourtney and Younes have been in Cannes all week for the Cannes Film Festival, and they've been seen cuddling throughout.
Kendall Jenner is also in Cannes for the festival, and she and Kourtney have been spending time together there, along with their friends Simon Huck and Allie Rizzo, US Weekly reports.
Kourtney's been posting pics religiously throughout the vacation, but none of them have been with Younes. LAME. She apparently is also trying her hand at puns.
She captioned this one, "we cannes do no wrong."
Get it? Cause, Cannes.
She also posted this one with the caption, "Cannes you feel it."
Get it? Cause, Cannes.
A source told US Weekly that Kourtney and her new bae have been hooking up since December, but noted, "Kourtney and Younes are not serious. They are hooking up."
But they seem to be having a great time together in Cannes, so maybe this will become ~something more~.
The two have been spending a lot of time on boats while they've been in Cannes. I guess that's what you do when you're rich and at the Cannes Film Festival. I guess being rich means you get to go to the Cannes Film Festival... damn. I need to make more money.
Anyway, here they are having a majestic time on the high seas.
Jet skis!
 "OK, Kourtney. This time, I DRIVE!"
Boats! Sunglasses!
Boats and sunglasses again!
I am literally so poor.
Scott Disick, on the other hand, has been hanging out with Bella Thorne, and I LITERALLY DO NOT UNDERSTAND WHY.
Scott Disick and Bella Thorne were seen walking LAX together on Monday, TMZ reports. This makes this the second time the pair have been seen in public together.
They went on a date last week where they stopped into two restaurants for food before hitting up a club in LA to catch some live music.
According to a source, the pair was flying to Cannes when they were seen in LAX. This sounds like a revenge plot, Scott!!!!
Look, with Kourtney, I can get over the fact that she's hooking up with someone much younger than her because at least he's over the age of 21. And it's also none of my business.
But with Scott, I really can't help but be like, "LITERALLY, WHAT?!" because Bella Thorne is only 19 years old.
Hook up with whomever you want, people, but if you're a grown-ass man or woman, don't date people who still have the word "teen" in their age.
Citations: Bikini-Clad Kourtney Kardashian Kisses Younes Bendjima in Cannes: Pics (US Weekly)