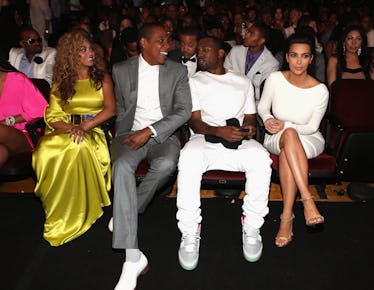 Kim Kardashian & Beyoncé Reunited For First Time Since JAY-Z & Kanye West's Feud
Christopher Polk/Getty Images Entertainment/Getty Images
Break out the champagne glasses, because today is a day for a celebration. Sure, sure, Serena Williams and Alexis Ohanian just tied the knot yesterday, which is super exciting, but something else happened that's making me clap my hands with pure, unadulterated joy: Kim Kardashian and Beyoncé reunited for the very first time since JAY-Z and Kanye West had their epic feud. This is not a drill. I REPEAT, THIS IS NOT A DRILL.
If you don't know any of the deets about the sordid ordeal between JAY-Z and 'Ye, take a seat. You've come to the right place. Let me take you on a lovely walk down memory lane.
Last November, Kanye West was performing in Sacramento, California, when he decided to stop his show after only 30 minutes of being onstage. But before Yeezy's exit, he decided to go on a nice little rant about Beyoncé and JAY-Z, accusing Beyoncé of being unwilling to perform at the 2016 MTV Video Music Awards unless her video for "Formation" won Video of the Year (spoiler: it did). In a video that was posted to Twitter, you can hear West rambling, saying, "Beyoncé, I was hurt 'cause I heard that you said you wouldn't perform unless you won Video of the Year over me and over 'Hotline Bling,'" then adding, "In my opinion – now don't go trying to diss Beyoncé – she is great. Taylor Swift is great."
I'm sorry? What did you just say?
We all know that West has held a longtime grudge against Swift, so this was clearly a dig.
West then went on to call out JAY-Z, saying, "JAY-Z, call me, bro! You still ain't calling me. JAY-Z, call me… JAY-Z, I know you got killers. Please don't send them at my head. Just call me. Talk to me like a man!"
West proceeded to basically drop his mic and leave, causing an outrage with his fans. You can watch the madness unfold below:
JAY-Z went on TIDAL's Rap Radar podcast and expressed the hurt he felt over the incident with West:
You got hurt, because this guy was talking about you on a stage ... But what really hurt me, you can't bring my kid or my wife into it. Like, Kanye is my little brother. He's talked about me a hundred times. He even made a song called 'Big Brother.' We've gotten past bigger issues, but you brought my family into it, now it's a problem ... You know it's a problem because me and him would have been talked about it, been resolved our issues. And he knows he crossed the line. He knows. And I know he knows. 'Cause we've never let this much space go between one of our disagreements, and we've had many. That's part of who we are.
So, I can see why JAY-Z and Beyoncé aren't having Sunday dinners with Kanye West and Kim Kardashian as of late. Since the entire ordeal unfolded, the two couples have been going their separate ways.
That is, of course, until Serena Williams invites the gang to her wedding.
While neither JAY-Z nor Kanye West were in attendance, Bey and Kim K RSVP'ed "yes," because the two reportedly reunited for the first time since World War 'Ye. According to E! News, an insider reported that the two women were standing at the VIP bar together, ordering champagne.
My initial question: what's a VIP bar? Isn't everyone at Serena Williams' wedding technically VIP?
But that's neither here nor there, because what's important is that Bey and Kim are seemingly putting their differences aside, and really doing up that whole #GirlPower thing.
Will this help the feud between JAY-Z and Kanye West to blow over? While the jury may still be out on that one, we can only hope that the two women got to at least dance to "Single Ladies" together.