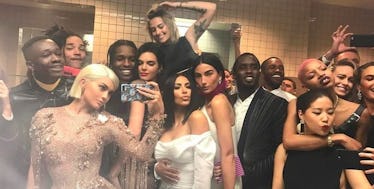 Detail In Kylie Jenner's Met Gala Pic May Mean Kendall Jenner Is Off The Market
Instagram
Ahhh, the day after prom: when everyone assesses the cutest couples, the best dresses and, of course, who hooked up.
Last night's Met Gala was the celebrity equivalent of prom, and thankfully the internet makes the juicy gossip easy to get ahold of today -- even for us regular people who weren't invited.
Unfortunately, the Met Gala also has a strict social media policy -- enforced by the principal (gala chair) Anna Wintour. Selfies and social media are reportedly strictly forbidden inside the event, but lucky for us, the Kardashian/Jenner family feel they are above the rules.
Kylie Jenner posted a low-key selfie, featuring Kim Kardashian, Kendall Jenner, A$AP Rocky, Frank Ocean, P. Diddy, Brie Larson, Paris Jackson, Ashton Sanders, Luka Sabbat, Michelle Monaghan and Lily Aldridge, with the caption "annual bathroom selfie."
It's Kendall Jenner, though, that got our attention.
Standing rather close and looking quite lovey-dovey are Kendall and rumored fling A$AP Rocky.
Does this mean the two are finally making things official? Because that's not the only photo evidence of the pair getting cozy.
Kim Kardashian also managed to sneak a few snaps, and it looks like she and Kylie -- who both flew solo for the event -- set out to expose their model sister's love life.
Not only did Kim repost Kylie's "annual bathroom selfie" to Snapchat, she also uploaded this shot with Kendall and A$AP Rocky in the background staring longingly at each other. Kylie is in the foreground acting as paparazzi as well.
What are sisters for if not to spy on you with your new boyfriend?
Kendall has stayed seriously mum on the subject, but if you are going to make an official debut as boyfriend and girlfriend, it seems like the Met Gala -- and on your sisters' social media accounts -- is a very Kardashian way to go about it.
Let's break down the pair's history.
Back in December, after they had been spotted hanging out yet again, a source revealed,
Kendall is seeing a few people, and she's not exclusive with anyone at the moment. She's been going back and forth for a while with both Jordan [Clarkson] and A$AP Rocky.
At the beginning of the year, the 28-year-old rapper and "Keeping Up with the Kardashians" star went jewelry shopping together.
Then in February, the pair hit up 1 Oak in NYC and "danced the night away."
They also attended Kanye's Yeezy Season 3 show and posted for a family pic backstage.
Most recently, Kendall hit up the rapper's #WeedMapOasis party at Coachella, where, according to a source, "they were all over each other."
OK, Kendall. Enough is enough. Are you officially off the market?
Citations: Kylie Jenner totally broke the Met Gala's no selfie rule but look at all the celebs (Mashable)