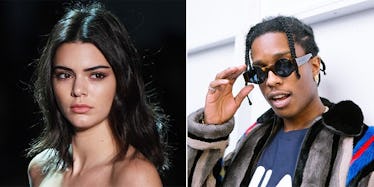 Kendall Jenner And A$AP Rocky 'Danced The Night Away' At NYC Club
REX/Shutterstock
What's the deal with Kendall Jenner and A$AP Rocky?
Are they a couple? Are they simply friends with plenty of benefits? It's quite hard to tell. The rumored couple have been spotted together quite a few times over the course of the last year.
A couple of weeks ago, the 21-year-old supermodel and the 28-year-old rapper were seen getting awfully close at a flea market in Paris.
Kendall, who donned a full-length fur coat, was seen cozying up to the rapper as the paparazzi snapped away.
Before that, Kendall and Rocky were spotted dining at the upscale sushi restaurant Nobu in Los Angeles. Even back then, reps for Kendall Jenner were saying she wasn't dating anyone exclusively and was keeping her options open.
We all believed that until we saw them in NYC jewelry-shopping together!
Over the weekend, the confusing couple Kendall Jenner and A$AP Rocky were both seen at popular NYC hotspot 1 Oak where Jenner had her first-ever DJ gig.
According to Us Weekly, a source says "Kendall and Rocky arrived together with a large group of friends." Once inside, A$AP Rocky reportedly hung out at a table next to the DJ booth as Kendall provided the sonic vibes throughout the club.
The same source revealed,
They all danced the night away and had an amazing time.
Other friends in the group included Hailey Baldwin and Bella Hadid. Judging by photos of Kendall and Bella stuffing their faces with fresh pizza inside of the club, it would appear they all had a great time.
Stars, they're just like us!
As of now, Kendall and Rocky aren't exclusively dating each other, but it's only a matter of time before they stop toying with our emotions and just make it official already.
After all, it's been reported numerous times Kendall really "likes him."
A source close to Kendall spoke to E! News, revealing,
They've been on and off for close to a year, but have been hanging out with each other more lately. She likes him, and he likes her.
They went on to say the 21-year-old model is "open to date him exclusively."
Citations: Kendall Jenner Steps Out With A$AP Rocky for New York Fashion Week DJ Gig: Photos (Us Weekly)