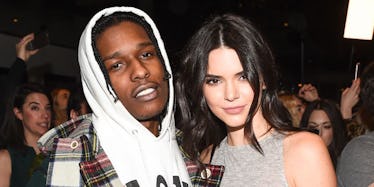 Kendall Jenner And A$AP Rocky Went Diamond Shopping So Things Must Be Serious
REX/Shutterstock
It seems like just this month Kendall Jenner was seen Bentley shopping with Memphis Grizzlies forward Chandler Parsons -- because it was just this month.
Yet just as we all started settling into the idea of Kendler (Chandall?), the reality star upended expectations and tossed rumored ex A$AP Rocky back into the mix.
Gotta respect ol' Kenneth Jenneth for keeping it fresh and unpredictable.
See, Kendall isn't dating as much as she's shopping for big ticket items with a series of male celebrity escorts.
Every idiot knows Chandler is the guy you drag along when you're looking to buy a Bentley, because leg room is something a smart consumer tests before buying.
It also makes sense Kendall ditched Chandler to go diamond shopping with A$AP Rocky. Chandler never wears jewelry during his games.
A$AP, on the other hand, wears jewelry even when he doesn't wear anything else.
The duo spent Tuesday trying on flashy statement pieces and browsing Ovadia & Sons merch in New York with Kylie Jenner and Tyga.
Kendall also depends on A$AP when making smaller consumer decisions, like whether to get just the three-roll special, or go nuts with an edamame appetizer.
A source told E! the pair are dating, but are not serious enough just yet to buy each other jewelry without a Venmo reimbursement.
The source told the site,
Kendall is seeing a few people, and she's not exclusive with anyone at the moment. She's been going back and forth for a while with both Jordan [Clarkson] and A$AP Rocky.
Kenny and LA Laker Jordan Clarkson were also recently linked, though it seems like A$AP has a better chance with the Victoria's Secret model long-term.
The insider added,
[Kendall and A$AP} have been on and off for close to a year, but have been hanging out with each other more lately. She likes him, and he likes her. She is open to date him exclusively.
Oh, DANG. It's on.
Citations: Kendall Jenner flaunts her endless legs in skintight leather pants as she shops in NYC with rumoured love interest A$AP Rocky Read more: http://www.dailymail.co.uk/tvshowbiz/article-4130142/Kendall-Jenner-shops-Kylie-Tyga-AP-Rocky.html#ixzz4W8ja61VJ Follow us: @MailOnline on Twitter | DailyMail on Facebook (Daily Mail)