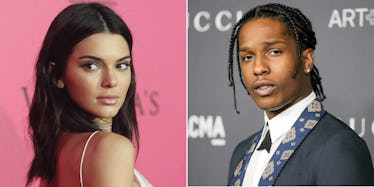 Kendall Jenner And A$AP Rocky Party Together, Spark Dating Rumors Again
REX/Shutterstock
Kendall... are you sure nothing is going on with you and A$AP Rocky? Because after last night, we're almost positive there is.
According to E! News, Ken was spotted on Friday once again with the 28-year-old rapper -- this time at a club in Miami.
It's been reported she showed up around midnight and hung out in VIP (obviously) with other celebs, including Tyga and younger sister Kylie Jenner.
This isn't the first time Kendall and the rapper have hung out in recent months.
Suspicion of Kendall and A$AP Rocky's romantic relationship sparked again on Friday night when the two of them reportedly left the club in the same car and drove to a Walgreens.
Apparently, they stayed in the store for about five minutes and then left separately.
Hmmm, what could they have possibly been buying at a drugstore late at night?
Let's use our imaginations for this one.
After their mysterious Walgreens trip, they were allegedly seen entering a hotel together at 4:30 am.
OK, Kendall. You can tell us there's nothing happening, but in my opinion, there definitely is. Who goes into a hotel room alone with a "friend" after a night at the club and a quick stop at the drugstore?!
No one. The answer is no one.
However, Kendall and A$AP Rocky never commented on their night out, so I guess we'll never know what happened behind those hotel doors.
But, we can get a look into the Jenner sisters' Friday night in Miami, thanks to Kylie's SnapStory showing Kendall grinding on her little sis.
Jonathan Cheban, close family friend of the Kardashians and Jenners, also took Snapchats of their crazy night inside the Miami club -- and Kendall looks perfect, as always.
Whether or not A$AP Rocky is dating the brunette bombshell, Kendall continues to keep it a secret.
In an interview with Allure in September, Kendall commented on the suspected romance, saying,
I just — my personal life, I'm so young. Whoever I'm dating, or going to be dating, is young, too. So I don't think it's figured out. Do you know what I mean? So if I don't know what it is, I'd rather not let everyone else know.
Whatever you say, Ken. Next time you publicly enter a hotel room alone with a famous rapper at 4 in the morning, get ready for questions -- because we have a lot.
Citations: Kendall Jenner Parties With A$AP Rocky in Miami (E! News)