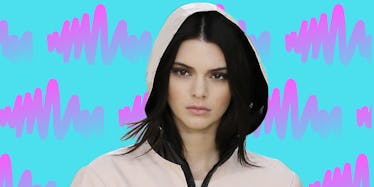 Kendall Jenner May Be Dating This Rapper And We're Not Sure How To Feel
REUTERS
WOAH, does Kendall Jenner have a new boyfriend?!
The 20-year-old model was spotted getting cozy with rapper A$AP Rocky, and no one knows what to think. On Wednesday night, the two were seen in Beverly Hills arriving at a hotel together.
Hmmm, whatcha guys doin' there?
Kendall Jenner and A$AP Rocky have apparently been good friends for a while and even went on a dinner date in Paris not too long ago.
He also helped the Jenner sisters celebrate the launch of their PacSun clothing line in February. Yeah, they go way back.
So what's the deal? Are they actually dating?
Well according to E! News, their relationship is pretty casual. A source shared,
Kendall is hanging out with a few people at this moment, no one exclusively.
The source explained,
[Kendall] just wants to have a carefree summer and go out with all her friends and date. She is having a blast.
YEAH, YEAH. That's what they all say. It looks like Twitter is already shipping Kendall and A$AP.
But people also seemed to be jealous of their relationship.
Not everyone is feeling it, though.
There are definitely people who aren't fans.
Like this person!
Whatever, I'm into it. Do your thing, Kendall.
Citations: Kendall Jenner and A$AP Rocky Spotted Out Together Again—So What's Really Going On? (E! Online), Kendall Jenner Enjoys Night Out with A$AP Rocky in L.A. (PEOPLE)