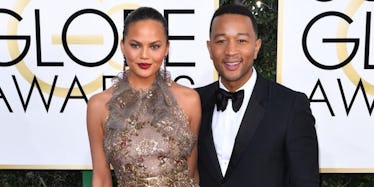 Chrissy Teigen And John Legend Are Couple Goals At The Met Gala
REX/Shutterstock
I challenge you to find an instance where Chrissy Teigen and John Legend aren't the absolute embodiment of #CoupleGoals.
Not sure if your findings will result in anything, though.
Here they are killing it at the 2011 Met Gala — while they were just dating — looking fabulous in Alexander McQueen.
The couple that slays together stays together, am I right?
So it should come as no surprise the two were looking just as stunning at this year's Met Gala.
But first, Chrissy treats us to a little pre-party fun between the sheets.
While others were snapping their makeup routines, Chrissy clearly decided to take the other route.
Props for individuality, girl.
And, while everyone is using #MetGala2017 or #MetGala, Chrissy — the social media queen that she is — decided to use #metball. Same diff, right? You've gotta differentiate yourself on social media somehow.
But her Insta is no match for her actual event outfit.
Though she looks fabulous with next to nothing on, she looks equally as flawless dressed up.
Just take a look at that outfit for yourself:
Girl's rockin' it.
No matter where these two go, Chrissy and John just look like they "mesh" together so well (as Cher would say).
What's really lovable about this couple is their humor, affection... and their ability to laugh at the other's expense...
Too funny, you two...
...well, maybe it's all just Chrissy making fun of John. But whatever, you guys, same thing.
She wanted people to start trolling her husband! Girl's got jokes.
So while some are debuting new relationships on the red carpet (we're looking at you, J. Lo) and others are avoiding love triangles (um, Selena, Bella and The Weeknd, that's you), Chrissy and John are rockin' the it-couple status.
If this were prom, they'd probably be voted king and queen, but they're both so lovable that you can't even hate them for it.