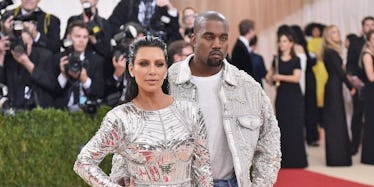 The Reason Kanye West Will Skip The 2017 Met Gala Is So Sweet
Getty Images
Kim Kardashian will attend this year's Met Gala solo.
Hubby Kanye West, whose 2016 Met Gala look made as big a splash as Kim's, is continuing his break from public appearances, reports People.
The Met Gala 2017 is the Metropolitan Museum of Art Costume Institute benefit held to raise money for the Costume Institute. Each year, the themed invite-only event is the place where designers pay for celebrities' seats so they can represent their brand.
And every year since 2013,  Kanye and Kim Kardashian-West have graced the carpet and easily become one of the most talked about looks of the evening.
But Kanye isn't leaving his reality star wifey hanging for just any reason.
And no, there isn't any trouble in the Kimye kingdom.
A source told People,
He's still very much enjoying his time off from public events. He'll be staying back in L.A. with their kids. Everything is great with him and Kim and he's supportive of her going solo.
Kanye West began his hiatus from the public eye in November 2016 after a public breakdown which involved a concert rant, where he called out Jay Z, Beyoncé and Hillary Clinton.
He spent three weeks in a hospital after being admitted for extreme exhaustion and has seldom shown his face to cameras since, though he has been spending significant time with Kim and the kids, as per her Instagram.
Truthfully, time away to just be Daddy West may be exactly what Yeezy needs.
Plus, it's not like producer-turned-fashion designer won't have plenty of sartorial moments for us to marvel (or gag) over in the future —when he's ready.
Though the 2017 Met Gala will be a Kimye-less carpet and Kanye won't be serving up a fresh look to inspire prom goers, there's still lots to look forward to.
Tonight, Kim Kardashian will be wearing Vivienne Westwood for the Rei Kawakubo/Comme des Garçons theme.
And just like every other camera-captured Kardashian moment, it's sure to be the talk of the internet.