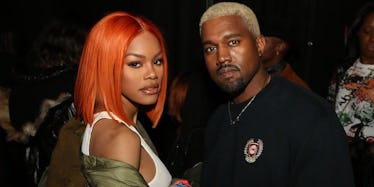 Twitter Calls Out Kanye West For His 13-Minute-Long Yeezy Fashion Show
REX/Shutterstock
Oh, Kanye! Will you ever not confuse us all?
The internet nearly imploded after fans got word Kanye West's highly anticipated Yeezy Season 5 fashion show was only 13 minutes long.
West had been unveiling his latest collection with Adidas during New York Fashion Week, but this time, he was way more low-key with his presentation.
If you remember the 39-year-old rapper's Yeezy Season 4 fashion show last year, you know the 4-hour ordeal had everyone in a cranky mood.
Not only were the models standing under the hot sun for way too long, but their heels were breaking left and right.
We can all agree it was a hot mess, just ask Sofia Richie! This time around, however, Kanye was clearly looking to redeem himself.
Not only did he significantly cut down the runtime of the fashion show, but he ensured there was no use of social media or smartphones.
As expected, the wonderful people of Twitter had PLENTY to say about Kanye's changes with his Yeezy Season 5 debut.
It's time to spill all the tea about Kanye West's Yeezy Season 5 fashion show during New York Fashion Week.
Yes, it was really just 13 minutes long.
Yes, it started 25 minutes late.
Aside from the show being incredibly short, it turns out there was a strict no phone and no social media policy.
Security at the event was also said to be tight. Even members of the press were turned away at the door.
Models sporting the new Yeezy looks were broadcast on four large screens inside the venue.
A few fans seemed to be disappointed by the new gear.
They just weren't feelin' it.
There were still plenty of people who absolutely loved Kanye's latest looks, though!
One of the highlights included his casting of Muslim model Halima Aden who sported a hijab.
Kanye seemed to be focusing on Los Angeles-themed swag this season. Invitees of the show received this sweatshirt.
He even paid homage to Calabasas. I'm sure Kris Jenner is a "proud mama" after that one!
Kanye's short-lived moment to showcase his work ended as each model walked the runway to present their look.
It's safe to say Yeezy Season 5 is garnering mixed reactions from both the crowd that actually attended the show and the oh-so-judgmental social media crowd.
Overall, it looks like the show was a success for Kanye compared to Yeezy Season 4, despite being just 13 minutes long.
And let's face the facts here... You know there will be lines winding around the world as people wait to get their hands on new Yeezy merch. It's inevitable!
Now, if you will excuse me, I'm going to go buy Gildan crew neck sweaters from Target and save myself the trouble.
Citations: Twitter Reacts To Kanye West Pulling A Fast One With His Yeezy Season 5 Fashion Show! (Perez Hilton)