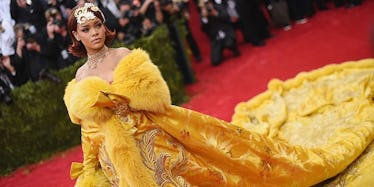 The 11 Most Incredible Met Gala Looks That Will Be Hard To Beat This Year
Getty Images
The Met Gala 2017 is coming up this Monday, May 1, and my plan to sneak into it is just about complete.
I can't divulge all the details, but I can tell you it involves a lot of groveling and crying on my end. (My entire plan is to grovel and cry to the security guards on the red carpet until they let me in.)
The Met Gala is one of the biggest parties of the year — it's basically the Oscars of fashion. A-list celebrities bring their A-game dressed in the year's theme. This year, the theme is Rei Kawakubo/Comme des Garçons, and I have literally no idea what that means.
But Comme des Garçons is responsible for some of the most iconic red carpet looks of all time — like the one Lady Gaga wore back in 2012 — so we can expect this to be a crazy year.
The Met Gala 2016 theme was "Manus x Machina: Fashion in an Age of Technology," so everyone came dressed in their most ~futuristic~ ensembles.
The Met Gala 2015 theme was "'China: Through The Looking Glass," and it gave us some of the most iconic Met Gala looks of all time.
I'd go so far as to argue that the 2015 and 2016 Met Galas served with the most iconic looks to date, and I have the receipts to prove it.
Keep these literally unbeatable looks in your mind as every celebrity on the face of the Earth — and also maybe me, if my plan works out (it won't)!!! — graces the Met Gala 2017 red carpet.
1. Beyoncé, 2015 and 2016
My lord, my light.
The 2015 Met Gala was the see-through dress show, with Beyoncé, Kim Kardashian, JLo and many others wearing almost completely see-through gowns, but Beyoncé's was the best out of all of them.
Some didn't like her 2016 look, but they're dumb.
This was one of Gigi and Zayn's first public appearances as a couple. Zayn's robotic arms were my favorite look out of all the men that year because they're just really cool, OK?
3. Zendaya, 2015 and 2016
Always a queen, always serving.
4. Sarah Jessica Parker, 2016
Some people hated this look, as it didn't really seem to fit the theme of "Manus x Machina" and was more out of a performance of "Hamilton," but, like... I love "Hamilton," so this look makes the list.
They've had lots of great Met Gala looks, but this one is the top, minus Kim's bleached eyebrows. Could've done without those.
Also, a high school student literally just rocked this Kanye-inspired look to prom, so it's still iconic a year later.
I hate Kylie, honestly do, but I love this dress. Leave me alone.
7. Lupita Nyong'o, 2016
This look made me see God.
Also NOT a fan of Taylor Swift, but this look was iconic and would've been iconic on anyone who rocked it. I just wish it wasn't Taylor, but ugh, c'est la vie.
It was the first time Taylor really strayed from her good girl vibe into an edgy, darker look.
9. Solange, 2015 and 2016
I have no words for this queen. I am nothing.
10. The indisputable winner of the 2016 Met Gala was Claire Danes in this illuminating Zac Posen gown.
She was a literal futuristic Cinderella.
11. And then, we have Rihanna...
Who was serving us...
...THIS. AT THE 2015 MET GALA.
WE ARE NOTHING. WE ARE GARBAGE. WE ARE TOXIC WASTE. WE MUST BE DUMPED FROM THE PLANET TO MAKE ROOM FOR RIHANNA AND RIHANNA ALONE. SHE REIGNS SUPREME.
Her 2015 Met Gala look is the greatest of all time, and no one can fight me on that.
You can watch the 2017 Met Gala red carpet on Vogue's Facebook Live starting at 7 pm EST, Monday, May 1.