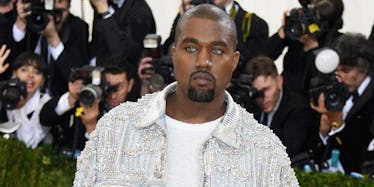 HS Student Copies Kanye West's Iconic Met Gala Look For Prom And It's Badass
Ahhh, prom season! It's that special time of the year when high school students completely forget about classes, extracurricular activities and getting into college and focus on what really matters: a school dance.
Let's be honest, though, it's WAY more than just a school dance. In fact, the dance has very little to do with prom.
No, prom is about the promposals, the picture parties, the luxury rides and the after-parties. Arguably, though, the most important part of prom is the attire (what, did you think I was going to say your date? Lol, who cares about who stands next to you for pics).
Basically, prom can put you on the map at your high school, but these days, teens are taking it to an entirely different level.
Remember this girl who immediately went viral after making her grand entrance to Beyoncé's "Formation"? I mean, how could you forget?
Well, it looks like we already have a contender for best dressed of the 2017 prom season and it comes from a guy named Tito Young, who rocked a Kanye West-inspired look specifically designed for the occasion.
Remember the Balmain jewel-encrusted blazer Kanye wore to the Met Gala last year? The theme of the fashion-filled night hosted by the Costume Institute was Manus x Machina, and the Balmain Army was out in full force.
Some might be intimidated to copy such a look, but not this guy. He contacted Subway Tatted to make him this custom jacket, which looks pretty dang similar to the one Kanye wore. I'd also like to think it cost significantly less.
Pairing it with white pants and Aviators, I think it's safe to say Tito turned quite a few heads at prom even without Kim Kardashian posing by his side.
Take a look at Subway Tatted's Instagram feed and you'll notice this designer is more than a little talented. Perhaps if your prom isn't for another month or so there's still time to get your custom-made creation.
Or, I mean, I guess you could just walk into a department store and buy a normal dress or tux... just don't expect to impress anyone. The bar has been raised, people.
Citations: Student Copies Kanye West's Met Gala Look for Prom 2017 (Teen Vogue)