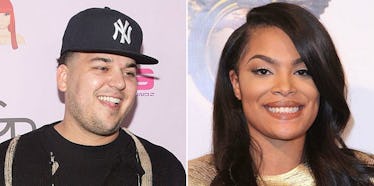 Mehgan James May Have Hinted About Her Relationship With Rob Kardashian On Instagram
Gabriel Olsen/Maury Phillips/Getty Images
Rumors of Rob Kardashian's new relationship with Mehgan James broke this morning, but Mehgan has been dropping hints about her new man for a while and we missed every. single. one.
Yup, the reality star has basically made her Instagram a receipt folder detailing her evolution from single woman to unavailable.
Elite Daily reached out to both Rob and Mehgan's teams for comment on their rumored relationship but did not hear back by the time of publication.
A source told People, "Mehgan's been supporting Rob and his business for some time now. They've been really close friends for about three months."
That business would be Arthur George, the clothing line Rob leads that features lots of socks, adult onesies, hats, baby clothes, and more. Like these socks, for example, that say "classy b*tch":
And here is where we find the most surefire clue on Mehgan James' Instagram that shows she's been dating Rob for a while: She posted a picture of herself in those same exact "classy b*tch" socks the day before the Arthur George account posted its picture of the product.
See? We MISSED IT!
On the same exact day, just before James posted the above photo, she posted a pic of the Arthur George packaging with the caption,
MY bestfriend knows I love socks & The Kardashians. So she got me a 2 in one #arthurgeorge.
These were posted on the same. damn. day. It's probably safe to assume the "classy b*tch" socks were inside this very box.
BUT WAIT, THERE'S ANOTHER REALLY F*CKING OBVIOUS CLUE IN THIS PICTURE.
You guys, she freakin' tagged Rob Kardashian in the pic. The pic that's about her best friend who knows she loves socks and the Kardashians.
I bet you, like me, thought that "best friend" in the caption just meant her best girlfriend, but we now know the two have been "close friends for about three months," and we obviously now know that she really does love the Kardashians, just a specific one named ROB.
This was literally right in front of our faces the entire time.
She posts about relationships on Instagram a lot, actually. It wasn't up until recently that she started posting about one man in particular.
In February, she posted this image of a quote:
It reads,
I like being alone. I have control over my own shit. Therefore, in order to win me over, your presence has to feel better than my solitude You're not competing with another person, you are competing with my comfort zones.
So here, she's probably single and feeling good about it.
Then, on March 21, she posted this quote:
It reads,
The one who doesn't tell you what you want to hear, but tells you what you need to hear. Keep that.
This sounds like a woman who has met a guy who could possibly be better than her "solitude," like her previous post says.
Now, in this post from April 9, it looks like she's officially in a relationship.
She captioned it, "When bae calls me slim." WHO IS BAE? Bae is Rob.
And then she came in with this post later in April, which makes it super f*cking obvious she's with someone.
It reads, "You'll never get what you truly deserve if you remain attached to what you're suppose to let go of," which is some sh*t that only people in relationships say.
Then came the posts about the socks.
The last hint in this long-ass list of receipts is this pic, which she captioned, "When bae hit the line."
Once again, bae is Rob.
So there you have it, people. Mehgan James has been low-key posting about her rumored relationship with Rob Kardashian for what looks like months, and we're just now noticing.