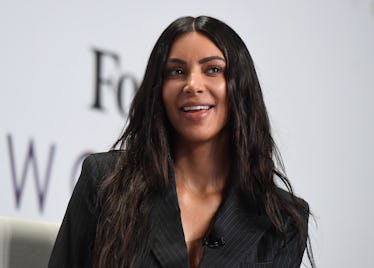 Kim K Shut Down Rumors About Her Surrogate Having Twins In Just One Tweet
ANGELA WEISS/AFP/Getty Images
Another day, another Kardashian pregnancy conspiracy theory. Ever since we started living in a world where Kim Kardashian, Khloé Kardashian, and Kylie Jenner all might be expecting babies, it seems like everyone on Twitter is just waiting for more baby news to drop from the family. So much so, they're creating their own conspiracy theories about the possible bundles of joy. The latest wild question Twitter users want an answer to is this: Is Kim Kardashian's surrogate having twins? The short answer is a big, fat no, but allow me to provide some more context.
Kim Kardashian tweeted a question about strollers on Twitter yesterday, Oct. 23, trying to see if any of her followers could recommend a good double stroller. She said in her tweet, "Anyone know who makes the best double stroller? Not a tiny compact one but regular size." Twitter users started to freak out a bit because they thought this was Kardashian prepping for more than one baby. She confirmed a couple weeks ago that she and Kanye West are expecting their third child, reportedly via surrogate. Though she didn't flat-out confirm they've hired a surrogate in the video clip where she confirms the baby, she doesn't say that she herself is pregnant, so it's likely the surrogate rumors are true. But people immediately thought this was Kardashian saying her surrogate was pregnant with twins when she asked about double stroller recommendations.
But guys... Kim Kardashian and Kanye West have two small children they likely use strollers for. So the double stroller she's looking to buy is literally for the two children she already has, although I'm sure she'll use whatever stroller she ends up getting for their third baby as well. Saint is only a little over a year old (he was born Dec. 5, 2015), so she'll probably use the double stroller for Saint and his new younger sibling.
Kardashian shut down the twin talk in one fell swoop, tweeting, "I have two kids people!!!! LOL."
No room for conspiracy theories here! Kimye only has one baby on the way, guys. Kardashian is just looking into a double stroller because she's about to have two babies close in age.
People have actually been really helpful, tweeting lots of double stroller suggestions to the soon-to-be mother of three.
But these conspiracy theories were fun for a little!! In a trailer for the current season of Keeping Up With The Kardashians, Kardashian confirmed she and West are having another baby when she was FaceTiming with Khloé Kardashian (who is reportedly pregnant with her first child, as is Kylie Jenner... allegedly). Kim said to Khloé, "What happens every time I say 'Guess what?'" Khloé responds, "Pregnant, or the person's pregnant." And then Kim says back, "We're having a baby!"
Kardashian first addressed the surrogate rumors in August when she was on the red carpet for New York Fashion Week. She told E! News,
I've definitely seen a lot of things, we've never confirmed anything. So, I think when we're ready to talk about it we will, and I think it's super invasive when people are just... So many details out there, and like I've never heard this, I've never heard this. Like whatever. We have not confirmed it, and that's that. I'll let you know when we're ready.
Even though this wasn't confirmation about the surrogate rumors, Kardashian has been very vocal about her pregnancies in the past and how they were high-risk. After giving birth to her daughter North, Kardashian got candid about the painful pregnancy and her experience with plancenta accreta on her blog. She said,
My doctor had to stick his entire arm in me and detach the placenta with his hand, scraping it away from my uterus with his fingernails. How disgusting and painful!!! My mom [Kris Jenner] was crying; she had never seen anything like this before. My delivery was fairly easy, but then going through that — it was the most painful experience of my life! They gave me a second epidural but we were racing against time, so I just had to deal.
According to the reality star, she suffered from placenta accreta again when she was pregnant with her son Saint.