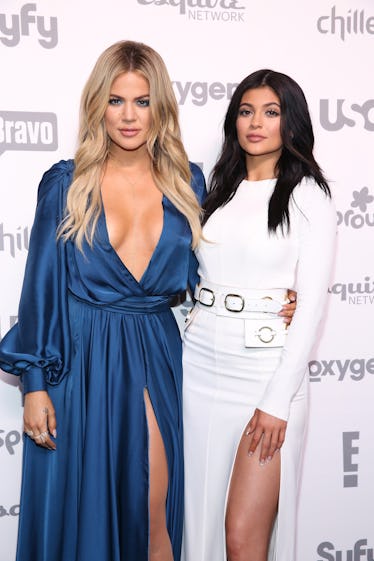 Kylie Jenner & Khloé K Look Like Twins In New Selfie Following Pregnancy Rumors
Robin Marchant/Getty Images Entertainment/Getty Images
I don't know what is in the water at Kris Jenner's Calabasas home, but whatever it is, the Kardashians should just bottle it and sell that sh*t. Obviously, there is some key ingredient that gives all of her daughters a certain insane celebrity glow, great bone structure, and luscious locks even without their extensions. Though there is no doubt each Kardashian/Jenner sister is a different person, every so often — when the selfie lighting is just right — they look like clones of one insanely gorgeous human. A recent photo of Kylie Jenner and Khloé Kardashian looking like real life identical twins is our exhibit A.
That, and the whole super power thing that made them reportedly pregnant at the same time.
BUT FIRST, THE PHOTO.
Kylie and Khloé are a full 13 years apart in human years, but just one or two filter adjustments apart in Instagram years. Now more than ever, all eyes are on these two, specifically because reports claim they're both pregnant with their first babies. Not only that, but according to People, they're reportedly due around the same time in February.
So far, there has been no confirmation from either sister, but yesterday Khloé posted this picture in which she and Kylie look like the exact same human.
Like, woah.
She captioned the photo, "I guess this is my favorite filter" with some heart emojis.
Of course, die-hard fans *cough me cough* are going to read into this and think, "WHAT FILTER DO YOU MEAN EXACTLY KOKO?! A PREGNANT FILTER?!"
The only thing missing from this photo is older sis Kim, who is also having her third baby reportedly via surrogate. Kim would have fit in the photo too, as she recently dyed her hair a similar platinum blonde, just like Kylie and Khloé are sporting above.
Sure, there are a lot of physical attributes Kylie and Khloé share in the photo beyond just their hair color. Other similarities like their nude plump lips, winged eyelashes, suspiciously similar eye color, and face symmetry also have us bugging out.
Also, if the rumors are true and the sisters are pregnant, that means Kylie and Khloé's babies are inside their bellies in this very photo, which for some reason I find both comforting and bizarre.
According to People, Kylie is reportedly pregnant with boyfriend Travis Scott's baby, and Khloé is reportedly expecting her first child with long-term boyfriend Tristan Thompson.
A month before that (sometime in January), Kimye's adorable bundle of joy will reportedly arrive, though we do not have any further specifics yet on their delivery plans. So far, all we have is an official confirmation by Kim herself in a Keeping Up With The Kardashians teaser.
Traditionally, it is Kim and Kylie who get the twin feedback more than any other pairing.
For their makeup collaboration, the sisters did a series of promo shots in strapless black shirts and rocked a sleek center hair part. The campaign had the world crying, "twins!"
And, even though I know this is not how family trees work, I can't help but feel like Kim's, Kylie's, and Khloé's babies are going to be born as triplets instead of cousins.
As the families stand now, Kim's daughter North and Kourtney's daughter Penelope might as well be sisters, and we can't wait to see what kind of dynamics three new bundles of joy will bring to the already insanely large family.
Just more for us to keep up with, I guess.
Check out the entire Gen Why series and other videos on Facebook and the Bustle app across Apple TV, Roku, and Amazon Fire TV.