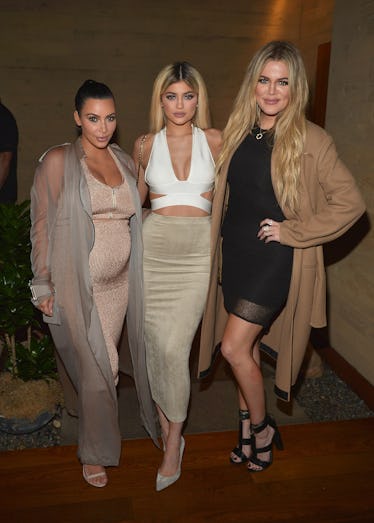 This Is Exactly How Far Apart All Of The Rumored Kardashian Babies Will Be Born
Charley Gallay/Getty Images Entertainment/Getty Images
If there's one thing we can count on in 2018, it's at least one more Kardashian baby. With any luck, three Kardashian babies will plummet out of the wombs of these famous sisters and land in the glorious limelight that is their new world. Khloé and Kylie are rumored to be pregnant at the same time Kim Kardashian is having a third baby reportedly via surrogate, and it's been all we can talk about since summer ended. Exactly how far apart will the Kardashian babies be born? Well, dear reader, walk with us.
Kim's Third Baby: January 2018
Let's start with Kim. Why? Because her baby-to-be was confirmed by Kim herself in the Keeping Up With The Kardashians Season 14 trailer — and also because she is the oldest. That's how siblings work. Rumors started circulating early this summer that she and husband Kanye West wanted a third child, but due to her first two difficult pregnancies, Kim was advised to not carry again herself. Now, TMZ reports that we can expect the third bundle of Kimye joy to arrive in January 2018.
Kylie's (Rumored) First Baby: February 2018
We'll jump to Kylie next, because she was the next rumored pregnancy to blast through our stratosphere and also because hers is the most shocking, right?! On Friday, Sept. 22, just when we all thought we'd be shutting down our computers for a weekend of last-minute summer mimosas and sleep, we were bombarded with the rumor that the youngest Kardashian sister is pregnant with boyfriend Travis Scott's baby. After a full 48 hours of no clear denial from family matriarch Kris Jenner, we've all decided to move forward with the assumption this is a fact.
A source close to the family told People that Kylie and Travis started telling close friends and family members in late Auguster/early September, and that her due date is in February 2018.
For those of you doing the math at home, that is just one month (or maybe even just a week, or a few days!) apart from sister Kim's baby, depending on when in the month each baby is due.
Khloé's (Rumored) First Baby: February-ish 2018
Holy Kardashian fetuses, Batman! We know that sister Khloé has wanted children for some time, but never became pregnant during her marriage to ex-husband Lamar Odom.
Not anymore!
While KoKo's pregnancy is also still unconfirmed, another source told People that Khloé and Kylie are both four months along. The source shared that "getting pregnant at the same time was totally unplanned but they are really happy about it."
They added,
This isn't something they were in a rush to announce to the whole world, and it's only been in just the past week or so that they've felt comfortable telling most of their inner circle. Things were complicated a bit by Kylie's announcement as they don't want to be seen as intruding on that moment for her but it is now reaching a point where Khloé doesn't want to be openly lying to people, and just staying quiet isn't going to work anymore.
So, world! If you've been keeping up (sorry), that is a grand total of somewhere between one month, to one day, to one minute apart for these three reported babes to hit our social media feeds!
If we didn't know any better, we could almost guess that the sisters planned it this way so their children would be close to their cousins just like Penelope and North.
Everyone, mark your calendars. 2018 is going to be even wilder and more Kardashian-y than ever! God help us.
Check out the entire Gen Why series and other videos on Facebook and the Bustle app across Apple TV, Roku, and Amazon Fire TV.