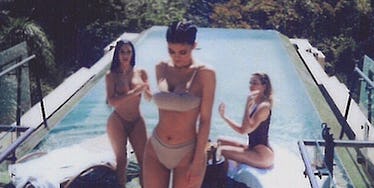 Kim Might've Teased 3 Kardashian Pregnancies On Instagram And We All Missed It
Kim Kardashian/Instagram
There might be proof that the world is about the get three pint-sized Kardashians. Rumors have been swirling that Kim, Kylie, and Khloé are all set to become new mothers, but so far we've only gotten confirmation on Kim. However, for all you sleuths out there, there might be a clue hidden in Kim's Instagram post, where she might've hinted three Kardashian pregnancies.
Right now, it's all just pure speculation that Kourtney and Khloé are pregnant. Neither of the Kardashians have commented on the rumor, though multiple sources confirmed the news to Us Weekly and TMZ, respectively.
Per Us Weekly, "Mama KoKo! Khloé Kardashian is pregnant and expecting her first child with her boyfriend, Tristan Thompson, multiple sources confirm exclusively to Us Weekly."
And according to TMZ,
We're told 20-year-old Kylie began telling friends earlier this month at the Day N Night Fest in Anaheim, CA. Sources also say 25-year-old Travis Scott, Kylie's boyfriend, has also been telling his friends. We're even told -- although we cannot verify -- that he's told friends they're having a girl. One source says Travis was at a recent event telling people about the pregnancy and how his life was going to change.
The trio's mom, Kris Jenner, has remained pretty mum on the whole topic, but did address the rumors during an interview with The Cut... in the vaguest of ways possible. She said,
[Kylie's] not confirmed anything. I think it's kind of wild that everyone is just assuming that that's just happening.
What we do know for sure is that Kim is 100% expecting a baby through a surrogate. The reality star revealed the news during a teaser for the upcoming season of Keeping Up With The Kardashians, saying to Khloé, "What happens every time I say, 'Guess what?'"
Khloé responds, "The person's pregnant?" Of course, Kim answered with, "We're having a baby!"
OK, so that's all really exciting... but what about the other two!?
Thanks to some super sleuthing from Bustle, there might be a wee bit of a hint in an Insta posted by Kim on Sept. 3.
Obviously it's super innocuous, but it might be a clue that the three of them are expecting. The "..." is particularly damning. Ellipsis are only used when you're hinting at something or you want to show someone via text that you're mad at them.
If we take the digging one step further, both Khloé and Kylie have said they want to have children stat. During the season finale of KUWTK, Khloé admitted that she was off birth control and her boyfriend, Tristan Thompson, was all set to get the baby-making started. She said,
He wants to have, like, five or six kids with me, and that's lovely. We could start at one and then grow from there. But now, knowing I'm not on birth control, it's really scary. It's like a really big step.
Khloé also posted this to Snapchat, and I mean, there's not a whole lot of find-the-hidden-meaning there.
Kylie has also be vocal about wanting kids, and has said multiple times that she'd like to have children sooner rather than later. "I want kids for sure... I feel like I want kids before I'm 30," she said during an episode of Kocktails with Khloe in 2016.
Kylie also said during an episode of KUWTK last January that she thought a good age to have kids is 25... and, again, that 30 was too late. And during a Life of Kylie episode, she said,
What I really want is to live on a farm and have chickens and raise a family.
Is it safe to say that sometime in the near future there will be a KUWTK farm-edition? I will tune in immediately.