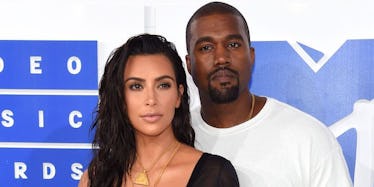 Kim Kardashian Confirms She's Having Third Child With Kanye West In New 'KUWTK' Promo
Jamie McCarthy/Getty Images
There's has been an overload of Kardashian news this week, but not a lot of confirmation. Finally, we have news directly from Kim K's mouth. In the newest promo for Keeping Up With The Kardashians, Kim Kardashian confirmed her and Kanye West are having another baby. She reveals the news while Facetiming with Khloé and it's so, so exciting.
Season 14 of Keeping Up With The Kardashians promised to be intense, but I was not expecting pregnancy news right from the beginning. The new season premieres Sunday, Oct. 1 and the promo has revealed so much already. The pregnancy news comes as a shocking twist in the last 10 seconds of the video because the beginning features Kim raising her glass to "MILFs gone wild." OKURRR
After Kris Jenner shares a cocktail with a mime (typical stuff), it seems that a lot of this season will focus on Khloé's romance with Tristan Thompson. I'm here for that —they're a great couple and I can't wait to see more. Kris Jenner is also going to get a cake smashed on her head, but I swear that happens every season. Sorry, doll.
It looks like there will be a lot of relationship drama this season. Rob's ongoing custody battle with Blac Chyna takes a tearful turn in the promo. Kourtney admits, "I've given up on being with the person I have three kids with." Of course, she's talking about Scott Disick who she's had an on-again-off-again relationship with for years. However, they may be permanently off because she confesses to Khloé that she has a boyfriend. Hmmmm...
Another misleading moment shows Kim crying after Khloé says, "Kim is now so insecure." I'm not sure what that's relating to, but hopefully it does not have to do with the newest addition to the West family. The baby news gets slipped in right at the very end. Kim is in bed wearing a flawless white outfit while Facetiming Khloé and asks "What happens every time I say 'Guess what?'" Then Kim drops the big news by saying, "We're having a baby!"
Keep in mind: Kim said they're having a baby — she did not say she was pregnant. Kim has been very vocal about her doctor's warnings that having a third child could be very unsafe for her. She said in an episode of KUWTK,
If the two doctors that I trust have told me it wouldn't be safe for me to get pregnant again, I have to listen to that. But because I don't know anyone that has been a surrogate or used one, I didn't really think about that as an option for me.
Kim K surrogate news has been circulating since June of 2017, but nothing has been confirmed directly from Kim or Kanye.
On June 21, a report from TMZ claimed that Kim and Kanye West opted to hire a surrogate to carry their child because Kim had two extremely difficult pregnancies.
When asked about the possibility of having a third child using a surrogate, Kim told The Hollywood Reporter,
I hope so. There have been a lot of things said, and Kanye and I have not confirmed anything. We're definitely trying. We are hoping so.
Sources told People that Kim and Kanye are "incredibly involved" in the process and are "super adamant" that their surrogate eats  healthy diet. The source said,
Kim and Kanye both want the healthiest baby possible and are making sure the surrogate is abiding by the routine they've set for her.
Obviously, there has been a ton of speculation on the surrogate reports since the news was released. On Friday, Sept. 8, Kim directly addressed the rumors with E! News. She explained that she's heard "a lot of things," but her and Kanye were not confirming anything... yet. She said,
I've definitely seen a lot of things, we've never confirmed anything. So, I think when we're ready to talk about it we will, and I think it's super invasive when people are just… So many details out there, and like I've never heard this, I've never heard this. Like whatever. We have not confirmed it, and that's that. I'll let you know when we're ready.
Well, it looks like they are ready to confirm the news now.  In true Kardashian style, we'll have to wait until Season 10 to find out all the details. Congrats, Kim and Kanye!
Check out the entire Gen Why series and other videos on Facebook and the Bustle app across Apple TV, Roku, and Amazon Fire TV.