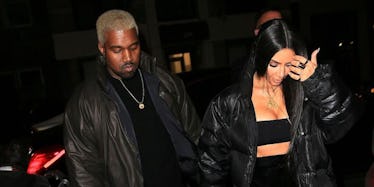 Kim Kardashian Breaks Silence On Hiring A Surrogate With Kanye West: "We Are Hoping"
Pierre Suu/Getty Images
Kim Kardashian is in the news yet again, and this time it's about her future baby! Is another tiny Kardashian-West baby on the way? I will take whatever news I can get on this topic, y'all. In the Aug. 16 issue of The Hollywood Reporter, the megastar reported she's "definitely trying" to have another child with Kanye West. Holy hell. The article also confirmed Kim Kardashian is "hoping" to hire a surrogate. So, this is all I'll be thinking about today.
Although Kim K has revealed very few details about her future child, rumors have spread that Kim K and Kanye plan to use a surrogate, and now it appears those rumors are true. Elite Daily reached out to Kardashian's team about the surrogate rumors, but did not hear back at time of publication.
When asked about the possibility of a third child with a surrogate, Kim K told The Hollywood Reporter,
I hope so. There have been a lot of things said, and Kanye and I have not confirmed anything. We're definitely trying. We are hoping so.
This is big news, Kardashian fans. She just confirmed something! We're finally getting the news we deserve to hear. Yahoo!
The uber-famous couple, who married in May 2014, has already popped out two kids — North and Saint. The two kiddos might be getting a little brother or sister. How cute is that?
So, who will be Kim Kardashian's surrogate mother? And how will she handle the pressure of fame? Well, this woman must be pretty awesome, whoever she is, but she also deserves privacy. At this point, it's unclear how far along in the process the couple is in terms of hiring someone, but it's important for fans to respect the family as they make decisions to grow their family.
Kim K has been completely transparent about her struggles with her previous pregnancies. The reality star suffered from a very painful condition called, placenta accreta.
In an interview with C Magazine, Kim K addressed her infertility issues. She said,
I had so many complications. I had this condition called placenta accreta. There were a couple little operations to fix all that so that created a little hole in my uterus, which I think made it really tough to get pregnant again.
So, the next question is... what will they name baby number three? South?