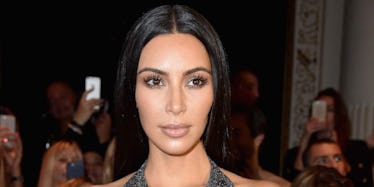 Who Will Be Kim Kardashian's Surrogate? They Deserve Privacy Too
Getty Images
Kim Kardashian and Kanye West are looking to expand their family once again, but this time through a surrogate.
TMZ reports the famous duo will be using surrogacy due to Kardashian's tricky pregnancy condition, placenta accreta, in which the placenta attaches too deeply into the uterine wall, as outlined by Americanpregnancy.org. Due to this, carrying a third child could be a life-threatening task for Kim K.
Elite Daily reached out to Kim Kardashian and Kanye West's teams for comment, but did not hear back by time of publication.
While the insanely famous reality TV star has lived most of her adult life on television, something like this is an extremely private and intimate decision, and one we can all assume she and Kanye West have not taken lightly.
The world watched as Kim struggled with difficult pregnancies with her first and second child, North and Saint West, and was candid about asking her sister Khloé Kardashian on Watch What Happens Live if she would carry her third child for her.
Additionally, in a recent KUWTK clip, sister Khloé learned she might have some trouble getting pregnant herself, and Kim mentioned, "I remember this room. I've cried many times in that chair."
As much as the public should respect the privacy of parents Kim and Kanye, it is equally important we respect the surrogate mother, whoever she is. Carrying the famous couple's third child is undoubtedly going to make her subject to a world of pressure we can't imagine, and she should be left alone for that and many other obvious reasons.
The Kardashian West family has had a whirlwind of a year, following Kim's Paris robbery and Kanye's alleged mental breakdown, and the two have been taking some well-deserved time off as a family.
Recently, Kim whisked Kanye away for a no phones, no work vacation in the Bahamas, where they spent private time with their kids.
Whatever happens next, we are wishing the absolute best for their family.