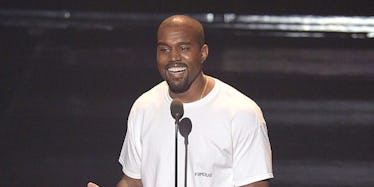 How Old Is Kanye West? Fans Celebrate His Birthday On Twitter
Jason Kempin/Getty Images
Today is a national holiday. Kanye West turns another year older, another year wiser, another year more famous, probably.
Yeezy hit the big 4-0 today, and all eyes will be following the Kardashians' social media to catch a glimpse of what kind of celebrations might be going down.
Last year, Ye shouted himself out.
Twitter is being flooded with messages of adoration, video clips, and insane birthday love for Pablo.
So, how does West plan on celebrating? Known for throwing his boo amazing, intimate and intricate parties, wife Kim Kardashian West revealed on Ellen she was feeling the pressure to plan something big.
She told Ellen,
I have no idea [what to do]. It's this summer and he's turning 40, and he does the most amazing, romantic, over the top, crazy, wild things that you would never even imagine for me, so the pressure is so on. I think I have an idea but I don't really want to say. I cant, but it's...I think I still want it to be intimate, maybe still small. Not too crazy. Not too overwhelming.
Intimate sounds about right. According to ET online, Kardashian whisked her husband and children away for a six-day vacation in the Bahamas.
A source close to the family told ET,
It's just what their family needed. Kanye brought his friend, Don Crowley, along with his family. The children had a great time. They hung around at the pool most of the day.
Going off the grid sounds like a welcome treat for the outrageously public family, as West has been on sabbatical since Kardashian's Paris robbery and his own hospitalization.
On Kardashian's end, she has been posting a series of videos and pics shouting out the drink Casamigos Tequila, which is partially owned by the owner of the house she and West were staying in during their travels.
Despite the private celebrations, the world is still celebrating you today, Yeezy. Happy birthday!