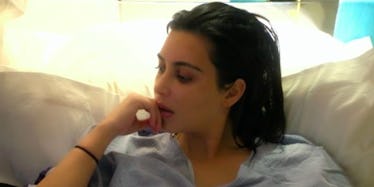 Kim Kardashian Reveals She's Trying To Have Another Baby In Emotional Clip
E! Entertainment
There's been little word from Kim Kardashian for a few days now, so it was only a matter of time before she came swinging back into our lives with zero chill.
It turns out the 36-year-old is trying for another baby.
Yeah, as if her life isn't already ridiculously overwhelming. She dropped the bombshell in a teaser clip for "Keeping Up With The Kardashians" on E! Sunday night.
She tells her sisters,
I'm going to try to have one more baby.
Her siblings are stunned by the news, obviously.
But Kim, who is already a mother to North, 3, and Saint, 1, revealed experts have warned her about the dangers of having a third child. She said,
I want my kids to have siblings, but the doctors don't feel like it's safe for me.
No details are given about what exactly the doctors are concerned about. Kim's mom tells her,
I don't want you to do something that would put you at danger.
The producers behind this fiendishly addictive show know how to keep the drama flowing. Earlier this month, Kim was forced to relive the ordeal she suffered at the hands of masked robbers in a Paris hotel.
She explained,
He grabbed my legs and I had no clothes on under, so he pulled me towards him at the front of the bed and I thought, OK, this is the moment you're going to rape me, and I fully mentally prepped myself.
Kim was not sexually assaulted. But one assailant pulled a gun to her head and threatened her life before ransacking her apartment and taking jewelry worth millions.
The robbery happened six months ago, but Kim is still living with it. Another "KUWTK" clip shows her talk about how she has flashbacks whenever Kanye comes home late from work.
She said,
Kanye came home, he had a concert. He always comes up the back stairs, like, I always know he comes out the stairs that go to my room. But he came up the front stairs, and all I heard was his feet stopping at the stairs, at like 3 in the morning, he came in.
We're wishing Kim all the best as she recovers from the ordeal, as well as with her efforts to have a third child.
Citations: Kim Kardashian Is Trying for Baby No. 3! But Doctors Warn It's Not Safe (People)