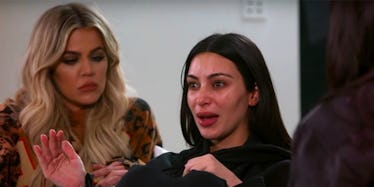 Kim K Is Still Crying Over The Paris Robbery And The Internet Is Heartbroken
E!
While it's been almost six months since Kim Kardashian was held at gunpoint and robbed in Paris, she continues to live daily with that drama.
On October 3, Kim was bound and gagged while thieves robbed her in her hotel room and stole millions of dollars worth of jewelry during Paris Fashion Week.
Kardashian feared for the worst -- that she was either going to be raped or killed. Thankfully, she was left unharmed.
The "Keeping Up with the Kardashians" star recently revealed the details of the harrowing experience on her show to her sisters.
While she was tied up on the bed, with her mouth duct-taped, she prayed her sister Kourtney, who was with her in Paris but chose to go out that night, would live a "normal life" after she found Kim's "dead body on the bed."
After the robbery, Kim Kardashian took her time returning to the spotlight, and opted to stay away from social media for a number of weeks.
A source told People,
Kim still speaks of the robbery as the most horrific experience she has ever had... [she] is still vulnerable and cries about the robbery.
Kim still being emotional about this traumatic experience is absolutely understandable. Also understandable is the reaction Kardashian fans had while watching the episode.
The terrifying experience did put things into a new perspective for Kim. The source said,
She very much likes her new normal. She knows that if the robbery never happened, these changes wouldn't have happened either. She is taking the horrific experience and focusing on the good aftermath. Before the robbery, Kim was often stressed out about her family/work balance. She many times felt that work overtook and she often missed her kids. This all changed after the robbery. Now, Kim very much enjoys being a mom first. Work comes second. She loves being at home with her kids and is much happier.
Citations: Kim Kardashian 'Is Still Vulnerable and Cries' over Paris Robbery: 'It's a Daily Struggle,' Say Sources (People)