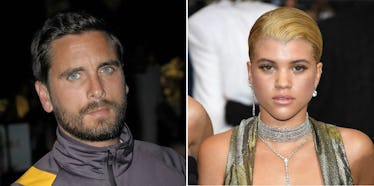 Fans Think Scott Disick And Sofia Richie Are Engaged After Cryptic Instagram Post
Chance Yeh / Stringer / Dia Dipasupil
Please say it isn't so, the world can't take anymore. Out-and-out alarming photos of 34-year-old Scott kissing 19-year-old Sofia Richie are shocking enough for the Keeping Up With The Kardashians fan club, but throw in a "Congratulations" cake and you're asking for mass hysteria. You guys, what is happening? Are Scott Disick and Sofia Richie engaged? Are they freaking pregnant? Did they win the lottery and just love to mess with our minds? Whatever is going on, I say we all call in sick and make it a national nap day just to prepare our bodies and minds, because we have a long road ahead of us.
Richie and Disick have been on-again off-again since the infamous Cannes Festival this past summer. You know the one. It was during that time when Disick fell into a pit of 19-year-old women and his baby mama Kourtney Kardashian debuted her smokin' hot boyfriend, Younes Bendjima. At the time, photos surfaced of Richie and Disick palling around on a yacht, sparking the first rumors that they were a couple. However, Richie squashed the drama, tweeting,
Just so everyone can get their panties out of their asses, Scott and I are just homies #relax
That was back in May. Oh, what a difference four months make. Now, the two seem to be just straight up dating... like, in the traditional sense.
A source recently told People magazine, "Since returning to L.A., Scott and Sofia are inseparable. They are spending every day together. Sofia seems smitten."
Mmm hmm, checks out. Now, what about this cake? Good Lord, what does the cake mean?
While dining out in Miami on Sept. 23, the couple received a sparkling dessert with a very specific message written on it in chocolate. There, in front of everyone, were the words "Congratulations, Scott and Sophia." (First of all, it's SoFia... but whatever.) TMZ suspects the stunt was planned, as there was no attempt to hide or conceal the message or explain it on the couples part. In fact, in the video, we see the exact opposite. Disick reaches over and grabs a laughing Richie for a passionate smooch while onlookers cheer them on.
Although fans assume the "congratulations" means Disick and Richie are celebrating a huge milestone in their relationship (like an engagement, for example), neither Disick nor Richie have confirmed if the fan theories are true.  Still, the video is certainly telling us something.
Watch if you must.
Yuck. Ew. Oof. Wut? Ick. Halp.
Where do we begin?
First (I guess), let's just get this out there – age is just a number. It doesn't matter who people choose or choose not to love (within reason and legal boundaries), BUT, can we all agree there is just something uncomfortable AF about Scott Disick – father to three and famous party boy – wrapping his arms around teenage women, and just being like "THIS IS ME, WORLD! TAKE IT OR LEAVE IT!" Can we also agree it'd be, like, insane if they were actually engaged? (Quick factoid for the peanut gallery: Richie is closer in age to Disick's son Mason than to Disick himself.)
Twitter, obviously, is outraged.
I know, it's a lot to process. We've got Kim Kardashian reportedly walking around with a secret surrogate. We've got Kylie Jenner reportedly walking around with a pregnant belly. We've got Scott setting his world on fire for the umpteenth time. And I literally don't even know if you guys were paying attention during the 10th Anniversary Special this past weekend, but Khloé straight up sometimes lives in Cleveland these days. That's a crazy thing, right?!
HOW ARE WE SUPPOSED TO KEEP UP IF YOU GUYS KEEP TRYING TO THROW US OFF THE SCENT, KARDASHIANS?
For now, all we can do is wait and see if Disick and Richie reveal any more information and take that nap I talked about earlier.
Check out the entire Gen Why series and other videos on Facebook and the Bustle app across Apple TV, Roku, and Amazon Fire TV.