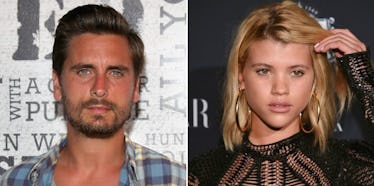 Scott Disick And Sofia Richie Are Reportedly Hooking Up, So That's Awkward
Paul Zimmerman/Dimitrios Kambouris/Getty Images
Remember when there was a lot of drama surrounding the fact that Justin Bieber and Sofia Richie were dating? And remember all of the rumors that Kourtney Kardashian and Bieber used to hook up? Well, now Scott Disick and Sofia Richie are reportedly hooking up, so life is a flat circle. Elite Daily reached out to Disick and Richie's teams for comment, but did not hear back by time of publication.
Disick and Richie have reportedly been spending a lot of time together over the last couple of weeks. A source told People, "Since returning to L.A., Scott and Sofia are inseparable. They are spending every day together. Sofia seems smitten." Disick and Richie were first seen together back in May when they were hanging out on a yacht in Cannes. In case you forgot, that was also the same timeframe Bella Thorne went to Cannes with Scott Disick. After being seen together, people online started talking. Richie addressed the rumors about her and Disick in a tweet on May 28 that read, "Just so everyone can get their panties out of their asses, Scott and I are just homies #relax." Uh, OK, what's happening now though, Sofia? Disick and Richie have been seen getting food and coffee together around Calabasas recently, and people are definitely thinking they're a thing.
But lots of people on Twitter have mixed feelings about this. Richie (whose father is singer Lionel Richie) is only 19 years old and Disick is 34; people don't think it's a great idea for them to be hooking up because of this massive age difference. Bella Thorne is also 19, and the same criticism was applied when she and Disick were reportedly together.
According to a source close to Disick and Richie, they are hooking up, but it's not that serious. They're apparently just enjoying their time together, but aren't in an official relationship. The source told People, "It's obvious that she looks up to Scott. She constantly giggles around him. They are very flirty," adding, "Scott takes care of her, opens the car door and pays for everything."
Twitter isn't having any of this, though. They mostly can't handle the age gap between the two of them.
To give you some perspective, Richie is 19 and Kylie Jenner just turned 20. Granted, Richie isn't obligated to explain why she's dating who she's dating and neither is Disick, but anytime there's an age gap like this in Hollywood couples, people talk about it. People talked about the age difference between Kourtney Kardashian and Justin Bieber back when those rumors were floating around, they talk about the age gap between Kourtney Kardashian and Younes Bendjima, and they talked about the age difference between Disick and Bella Thorne. So yeah, people have some strong opinions about these things.
Recently, it was revealed that Disick was hospitalized and placed on a psychiatric hold. The Los Angeles Fire Department confirmed these claims to Us Weekly, saying they picked up Disick after a call was made from his home. The person calling was concerned for his mental wellbeing, so Disick was placed on a psychiatric hold. Typical procedure requires a person on psychiatric hold to be held for at least 72 hours, but Disick was reportedly released before then. According to reports, he willingly went with the medical aid when they arrived to his home. The LA Fire Department said in a statement,
On August 18, LAFD responded to a call from the home of Scott Disick. Lost Hills Sheriffs were also on the scene shortly there after. LAFD officials transported Mr. Disick to a local hospital. No other information will be given out at this time.
Disick has reportedly been working on himself and his healing ever since, although it is reported that he still heavily relies on his friends for support. But hey, that's what they're there for. We'll just have to wait and see how this reported fling with Sofia Richie plays out.