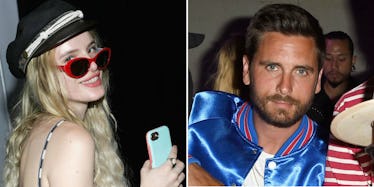 Bella Thorne Reveals Truth About Relationship With Scott Disick In Cannes
Lars Niki/Getty Images for Beautycon/Joshua Blanchard/Getty Images for TAG Heuer
Every year, movie stars, models, and other celebrities tend to use the Cannes Film Festival as an excuse to go on a luxury vacation and turn the French Riviera into their personal playground for weeks at a time.
Amid the parties, the jet skiing, and the private yachts, romantic sparks inevitably fly.
So it wasn't surprising when notorious partygoer Scott Disick showed up there with 19-year-old Bella Thorne.
Rumors surfaced of a possible relationship between Disick and Thorne when the 34-year-old reality star was spotted with the former Disney Channel actress grabbing a bite to eat and hitting up a club in Los Angeles.
However, things definitely heated up a notch when Disick and Thorne jetted off to Cannes together and were spotted looking quite couple-y by the pool.
It wasn't long, though, before Thorne returned home, taking time to shut down rumors on Twitter of a relationship with Disick.
Shortly after, Disick was spotted partying poolside with another woman, leading some to be concerned the father of three is spiraling out of control.
Now, Thorne is going on record to explain what really happened between her and Kourtney Kardashian's ex.
She told Complex they met when Disick showed up to a party at her house with French Montana.
Although Thorne has nothing but nice things to say about Disick, she clearly doesn't want to keep up with his lifestyle. She revealed,
Scott is really nice, sweet, charming. I don't drink, and he really drinks a lot. And it just ended up... I just wasn't down. I was like, 'I gotta leave.' We were [at Cannes] a day and a half before I was like I'm booking my flight and leaving.
She continued,
I love to go out and have fun, I love to f*cking dance, but I just don't party hardcore like that and it was way too much for me. I was like, 'Woah, this is not the way I live my life, bruh.'
Thorne, who doesn't hold back, particularly on Twitter, also cleared up some specifics about one particular paparazzi shot of the two where it appears Disick is grabbing her breast.
She explained,
Honestly, my nipple came out of my bikini and he tried to fix it for me and it looks like he's grabbing my boob. That's very nice of you to actually not sit there and stare at my nipple because my boobs are big -- they come out of my shirt all the time! You can't keep those suckers down.
So at least that clears that up, I guess.